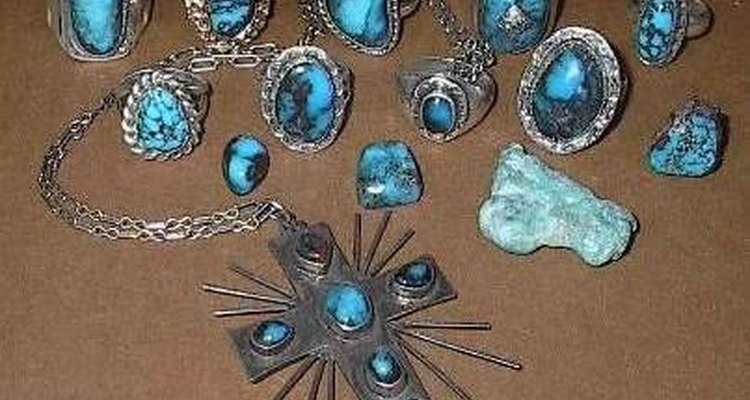 Photo by Vista4u2 at Wikimedia Commons
Turquoise is a beautiful mineral that has been mined and traded for thousands of years in several countries from the southwestern United States to Turkey. It is often paired with the metallic element, silver, in jewelry. Turquoise ranges in color from deep blue to green, and can have veins of other minerals running through it, such as iron or quartz. Turquoise is a soft, porous stone which requires different cleaning procedures than its frequent partner, silver.
Clean the silver part of jewelry with a dry silver polishing cloth. If your silver polishing cloth is permeated with cleaning agents, do not let it come into contact with the turquoise as it will damage the luster of the stone. Natural silver polishing cloths that do not contain cleaning agents also may be used to clean turquoise that is not heavily soiled.
Apply a cotton swab with diluted dish liquid to heavily tarnished silver. Remove any dish liquid residue by wiping the silver with a soft, damp cloth (luke-warm tap water only).
Use a very soft jewelry cleaning brush and luke-warm tap water to clean heavily-soiled turquoise. Do not scrub too vigorously. Do not soak turquoise in water or jewelry cleaner as it can become unstable due to its porousness.
Dry the jewelry with a separate, soft, absorbent cloth. Air dry out of direct sunlight for several hours before storing.
Store the clean and dry silver and turquoise jewelry in an air-tight, resealable bag. This will reduce the risk of tarnish as it is caused by moisture in the air. Place the bag in a jewelry box.
References
Writer Bio
Aja Rivers is a New England native who has been writing professionally for nine years. Her poetry has appeared in "Tiger's Eye: A Journal of Poetry," "Main Channel Voices" and "The Aurorean." She has an associate's degree in science from Cape Cod Community College and a paralegal certificate from Gloucester County College. Rivers is also a certified all-breed dog groomer.
Photo Credits
Photo by Vista4u2 at Wikimedia Commons