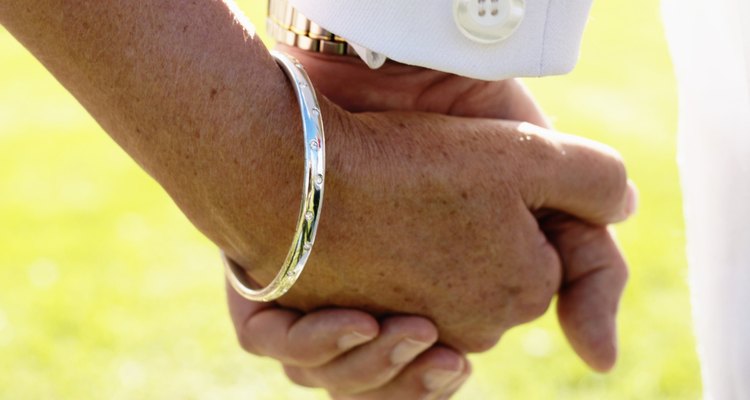 Marc Debnam/Digital Vision/Getty Images
A pleasure to own and a delight to wear, silver jewelry only gets better with the passing years. However, continued exposure to humidity and oxidation causes silver to tarnish and turn black, and improper care can expose the soft metal to wear and scratches. Protect frequently worn silver jewelry from dings and scratches by placing the jewelry in a padded jewelry box or a velvet bag. Long-term storage requires more attention, but with proper care, silver jewelry maintains its quality for many years.
Step 1
Wipe silver jewelry with a polishing cloth or soft sponge. Use a gentle, abrasive-free cleansing paste on badly soiled or tarnished jewelry. Alternatively, lightly spray the jewelry with commercial window cleaner, then scrub the jewelry with a soft toothbrush or cloth. Rinse the jewelry with warm water.
Step 2
Dry the jewelry thoroughly with a soft cloth. Avoid paper towels or tissue paper, which may scratch the finish.
Step 3
Wrap each piece separately in soft felt or an anti-tarnish cloth to prevent rubbing and scratching if you are storing more than one item. Place the jewelry in a tarnish-proof bag.
Step 4
Store silver jewelry in a dark, dry location.
References
Tips
Wipe silver jewelry with a soft cloth after each wearing to remove body oil, perspiration, makeup, cosmetics, soap or hair spray.
Never clean silver jewelry with toothpaste or other abrasive substances.
Writer Bio
M.H. Dyer began her writing career as a staff writer at a community newspaper and is now a full-time commercial writer. She writes about a variety of topics, with a focus on sustainable, pesticide- and herbicide-free gardening. She is an Oregon State University Master Gardener and Master Naturalist and holds a Master of Fine Arts in creative nonfiction writing.
Photo Credits
Marc Debnam/Digital Vision/Getty Images