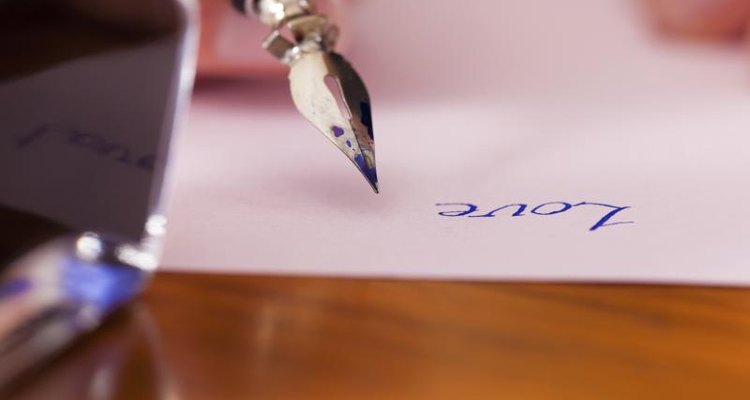 kzenon/iStock/Getty Images
It's not often that people send handwritten letters. Generally, a letter is for special occasions -- to congratulate, console, give thanks or offer advice. But little sisters are special. They look up to you and share the longest stretch of your life. No matter what the occasion, a well-written letter will let your sister know how you feel.
Expressing Gratitude
Maybe your sister came to stay with you to help with your kids or took your phone calls through a difficult break-up. Whatever the reason, a letter of gratitude has been shown to increase the happiness of both the person writing the letter and the person receiving the letter, writes psychologist Sonja Lyubomirsky in her Gratefulness.org article, "How to Practice Gratitude." Describe in detail what your little sister did and the impact that she has had on your life.
Relationship Advice
Another occasion in which you may write your little sister is on her wedding day. Give her the benefit of your experience with relationships so that she can have something to take with her into marriage. Make sure that your sister knows that conflict in a relationship is normal, writes Margarita Tartakovsky, associate editor at the Psych Central website, in her article "7 Tips for Newlyweds on Avoiding Common Mistakes & Improving Your Marriage." Most importantly, advise her to never take her husband for granted. It is the little things that truly make a relationship wonderful.
Offering Congratulations
You will want to congratulate your sister on her graduation day. Make sure to include your congratulations and your happiness for her achievement. Remind her that you love her and compliment her on her hard work. Share memories of the past, as well as advice and well-wishes for the future. You can write this on the inside page of the Dr. Seuss book, "Oh, the Places You'll Go," a favorite graduation gift.
Letter of Apology
A heartfelt letter of apology can go a long way toward earning forgiveness. Make sure to point out the good things about your relationship and what you appreciate about your sister, writes Elizabeth Bernstein in her Wall Street Journal article "Sibling Rivalry Grows Up." Offer a gesture -- perhaps you will help out with her kids. Express what you think is her point of view. By showing that you wish to consider her side, you demonstrate that you are serious about your apology. Finally, apologize sincerely and express how much the strain in the relationship is hurting you.
References
Resources
Writer Bio
Amy Guertin has a master's degree in counseling psychology and will earn her Ph.D. in 2014. Guertin is a licensed counselor and has 15 years of experience practicing psychotherapy, primarily working with children, adolescents and their families. She is also a college psychology professor and is the happiest when she is in the classroom.
Photo Credits
kzenon/iStock/Getty Images