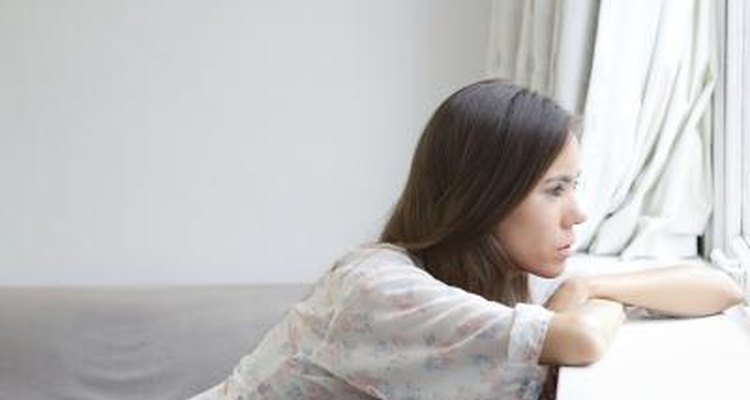 m-imagephotography/iStock/Getty Images
In the midst of dealing with the emotions involved in your mother's passing, you might also find yourself responsible for writing her eulogy. While it might seem like a daunting task, it can also help you start the healing process. Your mother's eulogy is your chance to celebrate her life and share your fondest memories with others. Summing up a lifetime of memories into a short eulogy might seem impossible, but once you decide on your intended message and find the right inspiration, you'll be able to honor your mom admirably.
Choose the Overall Message
When you write and give a eulogy, you want the audience to take home an overall message that embodies your mom. Amidst the stories and memories, you want them to see what she meant to you and others closest to her. Maybe she was a fighter or her family was everything to her or she was always willing to help others -- whatever it may be, choose that hook to work the other stories around. Don't be afraid to work humor into your eulogy if it's appropriate.
Look for Inspiration
Think about some of your favorite memories with your mom. If you're struggling to find those memories in your grief, walk around her house to find inspiration. Get out old photo albums and look through pictures. Find old letters or emails your mom might have kept that show her personality. Take a trip to some favorite places she visited to bring up more memories. Talk to other family members and friends to gather stories that you might not know about.
What to Include
A eulogy usually includes three sections: the introduction, the main body and the closing. In the introduction, you'll introduce yourself and your relationship to your mom. Even though your relationship seems obvious, there might be people there who don't know you. The main body of your mother's eulogy includes the stories and memories you gathered as you remembered your mom and talked to others. You might also include some of your mom's achievements, hobbies she enjoyed and any memorable quotes from your mother. You can choose to organize the body in chronological order, around a specific theme or choose three main points. In the closing, you can summarize the eulogy and give the audience some final comments on what you want them to remember about your mother.
Final Tips
You don't have to write out the eulogy word for word, but preparing it in some form is helpful. You might start by outlining your ideas and then filling in the rest. You can type the entire eulogy out or transfer specific points to notecards to take with you. Have a friend or family member read through your mom's eulogy to ensure everything is accurate and well put together. Rehearse the eulogy aloud either to yourself or to another family member. Even though you'll be busy dealing with emotions, visiting with friends and family and taking care of arrangements, practice the eulogy frequently to become comfortable with the information. The bottom line is to write and speak from your heart and honor your mother.
References
Writer Bio
Tamara Runzel has been writing parenting, family and relationship articles since 2008. Runzel started in television news, followed by education before deciding to be a stay at home mom. She is now a mom of three and home schools her two oldest children. Runzel holds a Bachelor of Arts in communication from University of the Pacific.
Photo Credits
m-imagephotography/iStock/Getty Images