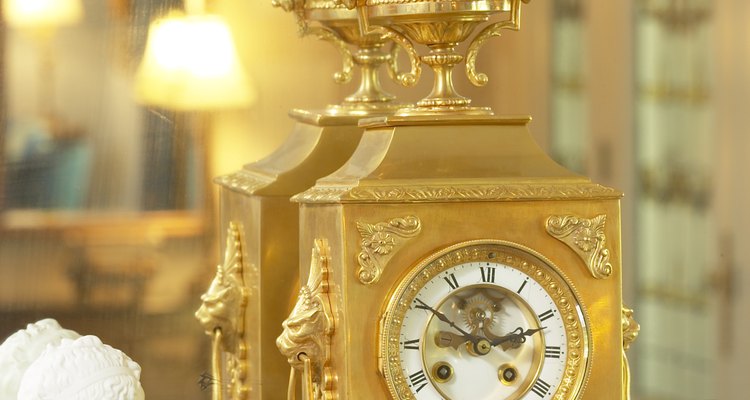 Hemera Technologies/AbleStock.com/Getty Images
It is a monumental event when a couple celebrates their 50th wedding anniversary. The traditional gift people give for a 50th anniversary is gold, which is still common today. If you know a couple that is celebrating their 50th anniversary, consider purchasing an engraved item. Engraved gifts are very personal and special to couples who receive them.
Gold
Gold has always been the traditional gift for couples celebrating 50 years of marriage. There are numerous gold items people can purchase for anniversaries including jewelry, clocks and vases. Specialty shops sell the items and allow the customer to choose what is engraved on it. You can write something simple, such as the couple's name or you can write "Happy Anniversary Jim and Jen" and list the date of their anniversary.
Plaques
Another gift many couples may appreciate is an engraved plaque. Choose a picture of the couple that is from when they were first married or a current picture. Have it placed on the plaque and add an engraved saying. Write their names or a short phrase such as "Congratulations" or "50 Years Together and Still Strong." If the couple is religious, add a Bible passage such as "Love Is Patient, Love Is Kind." If there is room on the plaque, add a longer passage or an appropriate poem.
Jewelry
If you are purchasing a gift for your spouse on your 50th anniversary, there are several types of jewelry appropriate for the special occasion. Ladies can purchase a pocket watch or bracelet for their husband and have it engraved with both of their names and the date. It can also indicate the years of marriage, such as "1961 to 2011." Men can give their wives a locket containing a picture of them together. On the back of the locket, he can have a simple phrase engraved on it like "With all my love" or "Forever yours" followed by his initials.
Photo Album or Picture Frame
Another idea for an engraved 50th wedding anniversary gift is a photo album or picture frame. If you give a picture frame, place a picture of the couple in it. For either idea, have a special quote engraved on the front or simply engrave their names and wedding date.
References
Writer Bio
Jennifer VanBaren started her professional online writing career in 2010. She taught college-level accounting, math and business classes for five years. Her writing highlights include publishing articles about music, business, gardening and home organization. She holds a Bachelor of Science in accounting and finance from St. Joseph's College in Rensselaer, Ind.
Photo Credits
Hemera Technologies/AbleStock.com/Getty Images