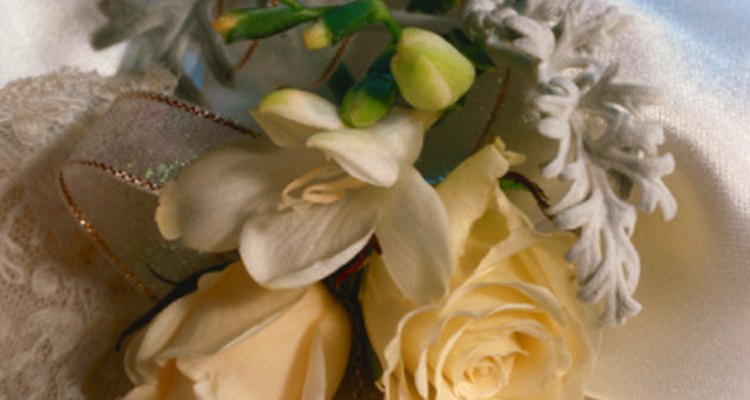 Hemera Technologies/Photos.com/Getty Images
An 80th wedding anniversary happens very rarely and presents an opportunity to give an extremely special gift. To achieve an 80th anniversary, both husband and wife will be near or over 100 years old. According to Anniversary Ideas.com, there is no traditional gift for a couple reaching 80 years of marriage, however, there are modern ideas for couples reaching this magnificent milestone in their lives together.
Diamonds
Diamonds are a modern gift given to celebrate an 80th wedding anniversary. The strongest of the gemstones, diamonds represent how strong the relationship is between the couple to stand the test of time. Gifts may include jewelry for her, such as necklaces, earrings or brooches. Gifts for him may include watches or cuff links. Together gifts may be plaques with inlaid diamonds commemorating their 80 years together.
Pearls
Pearls are a symbol of purity, charity, honesty, wisdom and integrity — all of which are embodied in a couple that has been married for eight decades. Pearl gifts for her might be necklaces or bracelets. His pearl gifts may include cuff links and mother-of-pearl inlaid items, such as money clips and pens. Gifts for the couple could include mother-of-pearl inlaid items like plaques and picture frames.
Memory Jar
Create a custom gift that will have special meaning for the couple. Have family members and friends write down their favorite memories of the couple on index cards. Place all the memories in a jar to present to the couple, if there is an 80th anniversary party for them. Gather pictures from their life and create a slide show. Display the slide show and read some of the memories out loud while the slide showing is being played.
Family Tree
Create a family tree for the couple that can be displayed for everyone to see. This tree can be created by hand out of construction paper and poster board. The base, or trunk of the tree, should include the names of the parents of the couple, and the tree should extend up and out from this point. Include all relatives with dates of birth and death, if appropriate. The tree will not only display the lives they have impacted, but also the future of the family. At a family gathering, have the couple reflect on the family members and share some of their favorite memories.
References
Writer Bio
Michael Carpenter has been writing blogs since 2007. He is a mortgage specialist with over 12 years of experience as well as an expert in financing, credit, budgeting and real estate. Michael holds licenses in both real estate and life and health insurance.
Photo Credits
Hemera Technologies/Photos.com/Getty Images