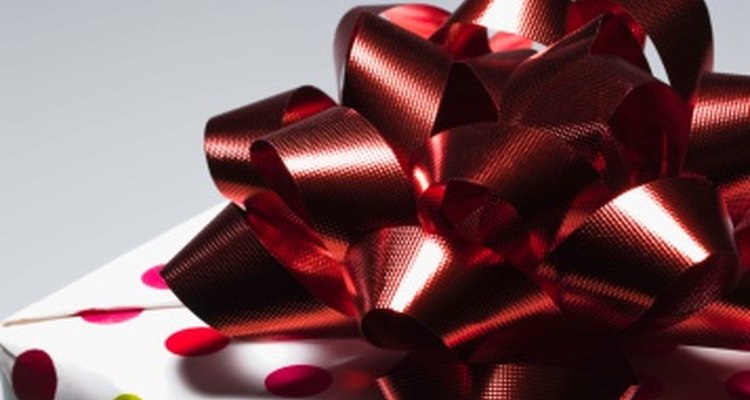 Jupiterimages/Comstock/Getty Images
Friends and family members of a couple celebrating their 50th wedding anniversary often give the couple a funny or gag gift. Many couples have a celebration party for this anniversary, and guests are generally discouraged from bringing a gift. The couple often appreciate a funny gift, however, as they get a laugh out of opening it.
Matching Canes
A funny gift for a couple celebrating their 50th wedding anniversary is matching canes -- or personalize canes yourself as his and hers. This is a gift that is funny if it is for a couple you know well that would appreciate the canes as a joke. If one or both people use a cane already, this is not a suitable gift.
Caricature Products
Caricature is a technique used to draw images of people in an exaggerated or distorted type of way. Caricatures of the couple are funny gifts. You can order these pictures online by submitting a picture of the couple; an artist will make the caricature and ship it to you. The picture can be on paper, canvas, t-shirts, mugs or many other items. You can frame is and give it to the couple or order matching t-shirts or mugs.
T-Shirts
You can buy many different types of t-shirts as funny gifts for a couple. One t-shirt availablefor a man says "I've Been Married for 50 Years! Kudos to my Wife for Putting up with me that Long!" Other personalized shirts make funny gifts as well.
Personal Care Products
For a couple you know well, giving a bottle of a hair growth product is an idea for a funny gift. This gift is for the man. Create another funny gift for the man with an empty pill bottle filled with green jelly beans. Label it "Sexual Stamina Enhancer" or "Male Enhancement Pills." The elderly couple may find these ideas funny.
References
Writer Bio
Jennifer VanBaren started her professional online writing career in 2010. She taught college-level accounting, math and business classes for five years. Her writing highlights include publishing articles about music, business, gardening and home organization. She holds a Bachelor of Science in accounting and finance from St. Joseph's College in Rensselaer, Ind.
Photo Credits
Jupiterimages/Comstock/Getty Images