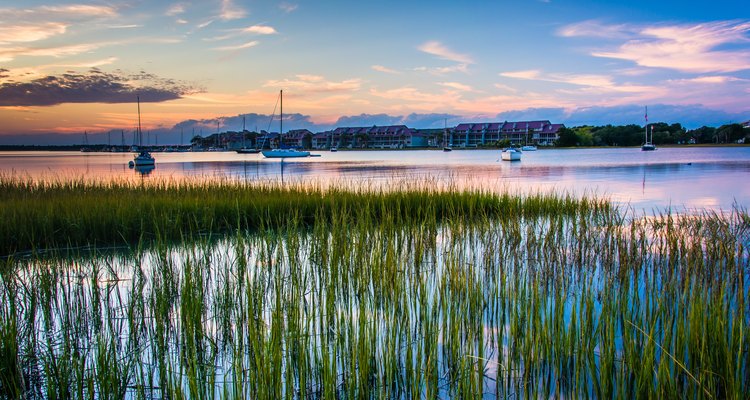 AppalachianViews/iStock/GettyImages
Five Escapes With Sun, Sand, Sea and Adventure
With a mix of energetic beach towns and quiet seaside resorts where the whole family can recharge, South Carolina offers a variety of beach destinations that will accommodate any style of travel. The temperate climate makes it possible to hit the beach spring through fall, and the soft sand and ample shallow tidal pools make it a popular destination for families craving soothing ocean sounds. Here are the best beaches for families seeking to soak up South Carolina sun.
Enjoy Island Time on Folly Beach
At 10 miles from Charleston, SC, Folly Beach, SC, makes a perfect day trip or long weekend. Relaxed and quirky island culture becomes a much-needed antidote to the hurried schedules of modern life. Families can lounge on idyllic beaches or take to the water and surf, kayak, experience the lull and thrill of deep-sea fishing excursions, or take eco-ocean tours. Alternately, explore the 12-square-mile barrier island by land. Rent a bike for leisurely rides throughout the town or browse locally-owned shops and boutiques that offer everything from funky clothing and souvenirs to surf gear and homemade ice cream. Take a stroll down Folly Beach Fishing Pier, which extends more than 1,000 feet into the Atlantic, at sunset for spectacular views alongside live music.
Savor Sunny Days and Soft Sand at Hilton Head
When you close your eyes, do you imagine lapping waves on sugar-white sand? If so, Hilton Head, SC, is the beach town for you; just add the sound of kids splashing in warm waters or thumping the sides of their sand pails while constructing architectural marvels. With 12 miles of public beaches, there's always room for a few more chairs in the sand. The island also offers miles of bike trails, kid-friendly pirate and dolphin cruises, horseback riding, and the opportunity to kayak along serene marshlands. If you opt to leave the kids with sitters, take advantage of the 24 golf courses and 350 tennis courts nearby. With dozens of hotels and resorts on the island, families of every size and with every price range will find options.
Discover Outdoor Adventures at Huntington Beach State Park
If the kids prefer active adventures over lazy beach days, Huntington Beach State Park (6148 Ocean Hwy., Murrells Inlet, SC) will thrill the whole family. While Huntington features the same pristine sandy beaches and ocean breezes as Myrtle Beach, a mere 12 miles north, the state park also boasts campsites, bird-watching tours, nature trails and kayaking excursions across the park's freshwater lake. Kids can get up close to animals at the park education center. Here, they'll see indigenous loggerhead turtles and baby alligators and have the opportunity to pet stingrays or horseshoe crabs. If camping isn't your style, don't worry. There are dozens of accommodations within a short drive, including budget-friendly hotels and oceanfront suites.
Enjoy Beach Time and Amusement Parks at Myrtle Beach
A trip to Myrtle Beach, SC, is a sure-fire way to earn a parent-of-the-year badge from your kids—at least for a few days. You can stroll or swim along 60 miles of white sand, make multiple trips to amusement venues, including Myrtle Waves Water Park (3000 10th Ave. North, Myrtle Beach, SC); SkyWheel (1110 N. Ocean Blvd., Myrtle Beach, SC), which features an observation wheel high above the Grand Strand main strip; Ripley's Aquarium (1110 Celebrity Circle, Myrtle Beach, SC) or the Broadway Grand Prix (1820 21st Ave. N. Myrtle Beach, SC). Golf lovers will rejoice, too, with more than 100 courses within a short drive, including mini-golf parks outfitted in kid-approved themes. There's also an abundance of outlet malls and every type of restaurant you can imagine, from seafood, burgers and Southern barbecue, to pirate or medieval-inspired dinner shows crafted for families. After days packed with these activities, the kids will tuck themselves in early.
Slow Down on Sullivan's Island
Only 20 minutes from Charleston, Sullivan's Island, SC, offers a quiet retreat for families looking to abandon screen time for a few days in favor of ocean views. The beach is the main draw for its year-round appeal, thanks to warm water, sweeping sand dunes and shallow tidal flats that make it a perfect playground—with supervision—for even the youngest children. Frequent dolphin sightings are a bonus, too. You'll find plenty of relaxed dining options in the town where golf carts are the main mode of transportation. While real-estate prices are high in the charming, seaside town, there are many affordable hotel options a few miles away near the interstate.
References
Writer Bio
Kristin Amico is a travel, food and culture writer that has spent more than a year traveling across Europe and Asia.