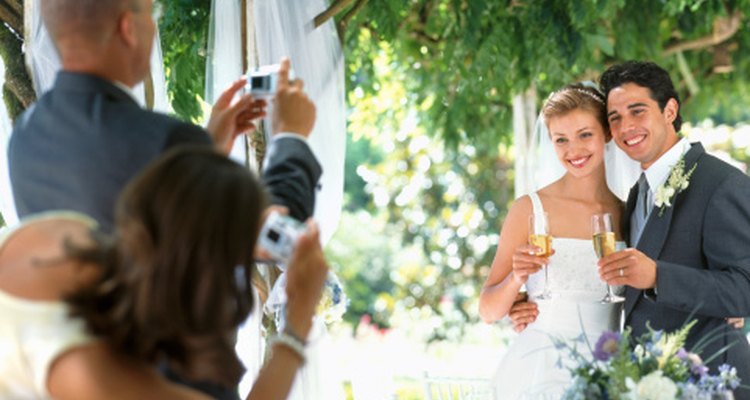 Todd Pearson/Digital Vision/Getty Images
For those seeking a unique backdrop for their wedding or reception, Sea World Orlando provides scenic surroundings with exotic and exciting exhibits that feature an array of marine life. The Worlds of Discovery parks of Sea World include a variety of venues that suit groups both large and small. Although Sea World frequently caters to smaller private parties and corporate groups, specific requests for on-site weddings and events can always be discussed by contacting the group sales and events department.
Sea World Orlando
Create your guest list. Determining the number of guests who will attend your wedding and/or reception will have an effect on venue availability. Groups that include up to 1,500 people can be accommodated on four private acres at Sea World Orlando that include pavilions and a central courtyard. The four covered Sea Harbor Pavilions are well-suited to buffet events for large receptions. Banquets for groups of 100 to 750 are often held at Sea World's Ports of Call, which offers a large covered patio, kitchen and open ballroom areas.
Visit local resorts and event facilities in the area to decide if you want both your wedding and your reception to be held at the same location. You may want to hold the ceremony at a local church or nearby resort and have the reception held at Sea World afterward.
The Renaissance Orlando Resort Hotel at Sea World is a contemporary hotel boasting beautiful tropical landscapes. Located across from Sea World and near its two other Worlds of Discovery parks, Aquatica and Discovery Cove, it is conveniently located in central Orlando for guests who will be planning an extended vacation in the area. The Renaissance offers a variety of wedding packages and specials that include group rates for the wedding party and guests. Outdoor garden areas, ballroom facilities and ocean-themed decor will complement any wedding or reception plans for the Sea World enthusiast.
Call or email the group and events department at Sea World for venue details and availability. If you are planning a smaller reception for close family and friends that does not entail an elaborate banquet or dance, you might consider having a dinner at one of Sea World's unique restaurants. Groups of approximately 200 people or less can be accommodated at the Makahiki Luau, Sharks Underwater Grill or within the Wild Arctic.
Larger groups can be accommodated at the Sea Harbor Pavilions or Ports of Call. Other areas of the park that can be reserved for group events and dancing to the music of a DJ include Manta Mania near the Manta roller coaster, the Chill Zone outside of Penguin Plaza or areas near Shamu Stadium. Although rarely done for weddings, exclusive events occasionally book the entire Sea World park for the evening.
Wedding planners might also consider holding their event at Sea World's waterpark Aquatica or incorporating the all-inclusive dolphin experience at Discovery Cove.
Contact the Sea World Orlando groups and events department directly or submit a request for an event proposal online. Before making your reservation, discuss catering options and other requests with your event planner. Character appearances or an interactive DJ are available for many types of events. Bands, walk-around performers and artists may also be integrated with other entertainment options. Have caricatures of the wedding party drawn or purchase a personalized artwork featuring marine life with the new shared name of the bride and groom.
References
Writer Bio
Marissa Abernathy began writing professionally in 2007 on parenting, travel, electronics and technology. She has contributed to the "Norfolk Daily News" and to nonprofit publications of Northwestern Publishing House. As a writer for a web development company, she has provided content for hundreds of resort websites. Abernathy has a dual Bachelor of Arts in art and communicative arts from Wisconsin Lutheran College.
Photo Credits
Todd Pearson/Digital Vision/Getty Images