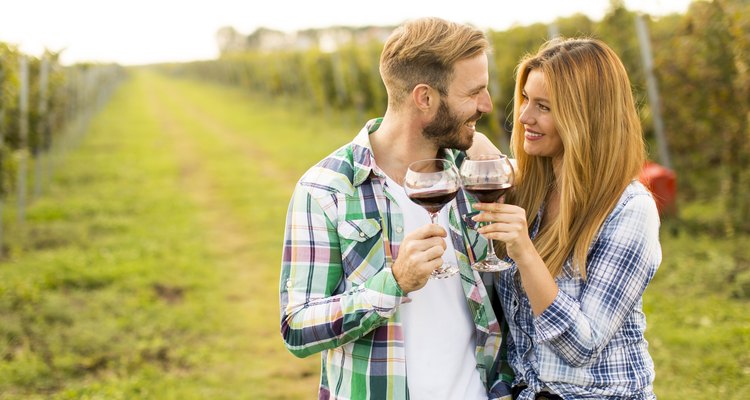 boggy22/iStock/GettyImages
Reignite the Romance in the MidWest
Feel like you're on your honeymoon again by taking a vacation to the luxurious resorts and spas in Missouri. These are the perfect romantic destinations for couples who are looking for a chance to leave behind their busy day-to-day schedule and escape. Settle in for a relaxing vacation with your loved one where you can take in lake views and indulge in gourmet meals.
Recharge at the Inn on Crescent Lake
Just 30 minutes from Kansas City, the Inn on Crescent Lake (1261 St. Louis Ave., Excelsior Springs, MO) is a 1915 Georgian Colonial mansion spread over 22 acres. The inn's two crescent-shaped bodies of water have historically been referred to as Crescent Lake. Take in all the lake has to offer by enjoying its stunning views, renting out paddle boats, or trying your luck at catching some fish. You can spot a variety of local birds as you walk along the nature trails throughout the property. Each morning, head down to the bright and airy solarium to enjoy your breakfast. Rooms start at $130 a night.
Wind Down at Hermannhof Winery
Stop whining, start wining! At $198 per night, you and your loved one can spend the night at Hermannhof Inn and visit the Hermannhof Winery during the day. With cellars originally built in 1852, enjoy Missouri's very own wine country with its tastings and tours. Enjoy the luxury suites or hillside cottages. Each guest room includes its own unique characteristics. For example, stay in the "Champagne" room adorned with wood-burning fireplaces, an over-sized shower and a deep soaking tub. An extra perk: The spa can come to you. Treat yourself and your significant other to an in-room massage.
Sleep In at the Garden House Bed-and-Breakfast
Stay at the "best bed-and-breakfast of the MidWest" at your romantic weekend getaway at Lake Ozark. With rates starting at $139 a night, the Garden House Bed & Breakfast (4 Haney Rd., Lake Ozark, MO) is the best bang for your buck. Enjoy gourmet food on the finest china with a backdrop of glistening lake views. Eat breakfast in bed or take it onto the patio. In addition, there is a great room, dining room, game room and a martini deck with a hot tub.
Fine Dine With Alperhorn Gasthaus
One of wine country's hidden gems is the Alperhorn Gasthaus (179 E. Highway 100, Hermann, MO) which features the finest dining. This true old-fashioned bed-and-breakfast welcomes you with its European-style charm, its farm fresh food and its wineries. Chef Kate will prepare gourmet meals, a three-course breakfast every morning and four-course dinners served Friday and Saturday.
Walk through the Norton Vineyard and the herb and vegetable garden to see what Alperhorn uses to craft gourmet meals. If you're interested in learning how to serve up some of those meals yourself, you can also participate in a gourmet cooking class. Book one of the four guest rooms or cottages with rates starting at $155. If you don't want the getaway to end just yet, book special add-on packages. You'll get a weekday special rate Monday through Thursday.
Feel Pampered at the Fleur-de-Lys Mansion
If wine country is not what you're looking for, experience 19th-century charm in the Fleur-de-Lys Mansion (3500 Russell Blvd., St Louis, MO). With rates starting at $160 a night, you will get pampered from the moment you step into the hotel.
Choose one of four luxurious guest rooms, each complete with plush amenities. Turn your romantic getaway up a notch with the Forest Park Room which includes a king-sized bed fit with signature lavender sheets and a Jacuzzi for two. For breakfast, try Parmesan and herb baked eggs or strawberry shortcake french toast. In the evening, step outside for a stroll among the beautiful gardens surrounding the property.