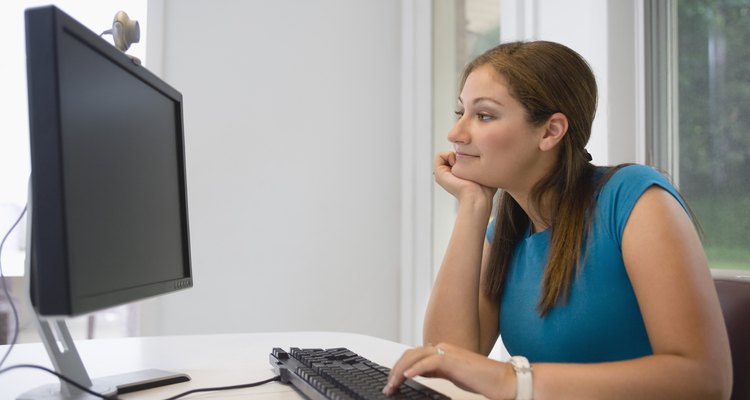 Thinkstock Images/Stockbyte/Getty Images
There's nothing like distance to make a relationship fizzle out, but you don't have to let that happen. Even if your boyfriend lives in another state, you can have a successful romantic relationship. And while talking on the phone, texting, or video chatting can become mundane and routine, you can still communicate in ways that keep the romance alive. You can show him that you love and miss him by offering sweet, creative romantic gestures in a variety of ways.
Send Him Something
Send him love through the mail. If he used to live in the same area you live in now, pick up his favorite treats from some of his favorite local shops. Consider sending him a long-distance relationship survival kit, which could include a small album with pictures of the two of you, a CD with songs significant to your relationship, a cute memento from a special date and a small jar packed with notes that tell why you love him.
Connect Digitally
So maybe you can't go to the movies with your boyfriend when he's so far away. You can still enjoy a romantic movie together online. Set up your webcam on your laptop so that you can see each other and talk about the movie as you watch. Text your boyfriend sweet messages often, as well, telling him that you miss him and are thinking about him. You can also text him famous love quotes that best describe your feelings or inspirational messages that will let him know you are thinking of him.
Romantic Scavenger Hunt
Research the area where you boyfriend lives and find the most romantic locations, restaurants and other spots ideal for couples. Create a scavenger hunt with clues to each place for your boyfriend to find. Tell him these are all the places you want to go with him the next time you visit and have him take a picture of each location on his phone. Have a small surprise waiting at each of the locations. For example, if any of the locations is a bakery or dessert shop, call in an order of something sweet that he will love, pay for the item in advance and have it waiting for him.
Surprise Him in Person
Planned visits are always nice, but there's nothing like a surprise visit, especially if you have been missing each other. Typically, to pull off a good surprise, you'll need to enlist the help of friends or family living where your boyfriend lives. They can pick you up from an airport, if necessary, and set up the surprise by making sure your guy is at the right place at the right time.
References
Writer Bio
Based in Los Angeles, Zora Hughes has been writing travel, parenting, cooking and relationship articles since 2010. Her work includes writing city profiles for Groupon. She also writes screenplays and won the S. Randolph Playwriting Award in 2004. She holds a Bachelor of Arts in television writing/producing and a Master of Arts Management in entertainment media management, both from Columbia College.
Photo Credits
Thinkstock Images/Stockbyte/Getty Images