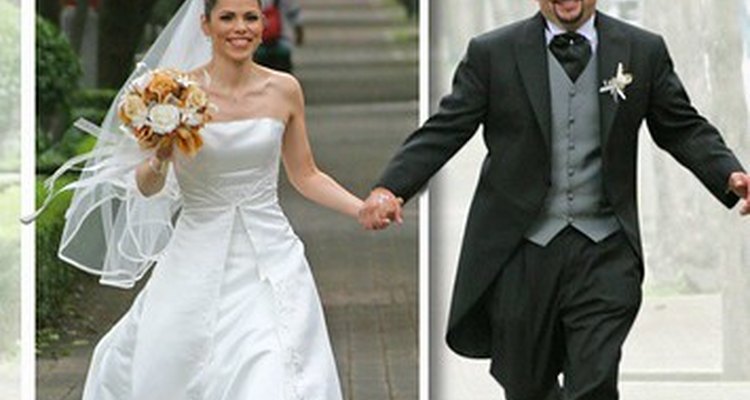 Image by Flickr.com, courtesy of Carlos Mendoza Lima
A wedding march and a wedding processional are easily confused, but there are important differences between the two. It is important to know the proper definition of each if you are planning a wedding.
Processional
A wedding processional marks the beginning of a wedding ceremony. The processional is the entrance of the bridal party, bride and groom for the ceremony.
March
The wedding march is the song that is played during the processional. The song typically has a slow rhythm, allowing the members of the wedding ample time to walk down the aisle. The march may be played again at the end of the ceremony.
Order
A traditional wedding processional begins when the groomsmen and bridesmaids walk down the aisle in pairs. The maid and matron of honor and the best man will be the last couple to enter. Then the ring bearer and flower girl will walk down the aisle. The final moments of the wedding processional occur when the bride is escorted down the aisle by her father.
Songs
Although the bride and groom may select any song as their wedding march, there are a few traditional songs that are commonly used during the wedding processional. These include "The Wedding March" by Mendelssohn, "Bridal Chorus" by Wagnr and "Ode to Joy" by Beethoven.
Considerations
If you are speaking with wedding vendors and are confused about which part of the ceremony they are referring to, ask for clarification to prevent misunderstandings.
Writer Bio
Krista Sheehan is a registered nurse and professional writer. She works in a neonatal intensive care unit (NICU) and her previous nursing experience includes geriatrics, pulmonary disorders and home health care. Her professional writing works focus mainly on the subjects of physical health, fitness, nutrition and positive lifestyle changes.
Photo Credits
Image by Flickr.com, courtesy of Carlos Mendoza Lima