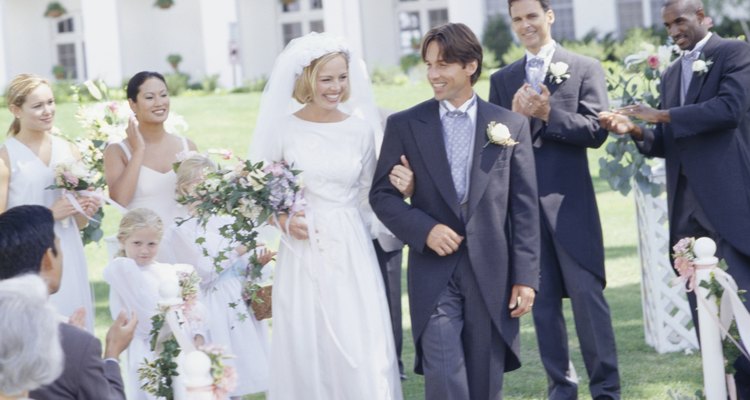 Buccina Studios/Photodisc/Getty Images
When selecting music for your wedding ceremony, you'll likely riffle through a variety of traditional pieces, including Pachelbel's "Canon in D," Vivaldi's "Spring" and Handel's "Air." However, two pieces of music -- the "Bridal Chorus," by Richard Wagner, and "Wedding March," by Felix Mendelssohn -- appear so frequently that they're easy to mix up. However, the two typically appear at different times in the ceremony.
Here Comes the Bride
If "Bridal Chorus" doesn't sound that familiar to you, it's because you probably know it by a different name: "Here Comes the Bride." Written by Wagner for his 1850 opera, "Lohengrin," this instrumental piece was an unlikely candidate to become synonymous with a wedding; "Lohengrin" is a tale of deception and death. It's traditionally played as the bride enters to walk down the aisle. Occasionally, this song is erroneously referred to as the "wedding march," which increases confusion.
Time for Celebration
After the "I dos" are said and the groom has kissed the bride, the celebration kicks off with the familiar strains of Mendelssohn's "Wedding March." It's part of the composer's incidental music for Shakespeare's "A Midsummer Night's Dream," and it was first performed in 1842. The song didn't accompany a wedding recessional until 1858, when the oldest child of Queen Victoria used it during her marriage.
References
Writer Bio
Kelsey Casselbury is a freelance writer and editor based in central Maryland. Not only a freelance writer, editor, and designer, she is also a mom of a preschooler, a volunteer for two nonprofit organizations, and an avid reader, cook, and piano player. She has a bachelor's degree in journalism from The Pennsylvania State University.
Photo Credits
Buccina Studios/Photodisc/Getty Images