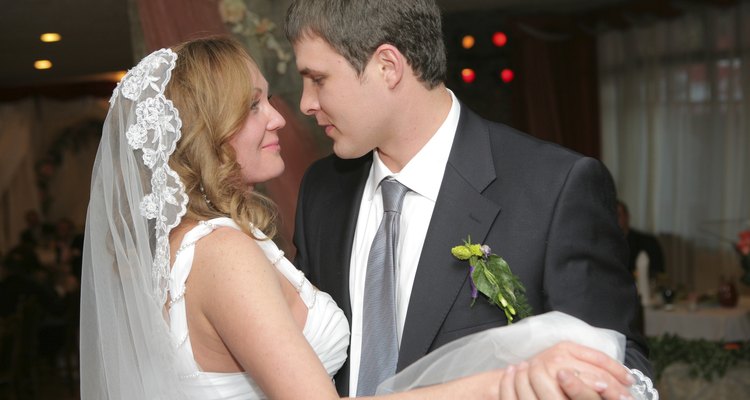 Konstantin Ratnikov/iStock/Getty Images
Weddings are a time to celebrate, so make sure your shoes are comfortable enough to get your groove on during the reception. While you might spend plenty of time free-styling on the dance floor after dinner, don't miss out on partaking in some of the traditional wedding dances throughout the evening.
First Dance
You've said your "I dos," and he kissed the bride; now it's time for your first dance as a married couple. This first dance typically occurs during one of two places in the reception timeline, either immediately after you two have made your grand entrance into the reception, or immediately after the first course of the meal is served. The song you choose to dance to can be upbeat or a ballad, but the music should hold some meaning to you. It might be the song you first danced to together while you were dating or a tune with lyrics that remind you of your new spouse. If you don't feel steady on your feet, bring a copy of your chosen song to a dance studio. They can help teach you traditional dance moves, such as the waltz or foxtrot, to the beat of your music.
Family Dances
As a bride and groom, you'll likely dance with a variety of family members at your wedding reception. However, two dances -- the father-daughter dance and the mother-son dance -- are traditional. They can be done simultaneously or consecutively, depending on how comfortable the participants are in the spotlight. If one of the parents is deceased, you can dance with another family member; for example, a bride with a deceased father might decide to dance with her brother or new father-in-law instead. Alternately, you can forgo the dances entirely.
Just for Fun
Although not entirely traditional, a number of dances appear frequently at wedding receptions. The dollar dance, also known as the money dance, occurs when each guest pays to dance with the bride or groom with the expectation that the money allots the couple some spending cash on their honeymoon. However, this dance is quite controversial, so talk to your betrothed before planning it. The anniversary dance asks all married couples to get on the dance floor, and then the DJ asks those who have been married less than a certain period of time to sit down. The couple who remains dancing the longest offers marriage advice to the newlyweds.
Last Dance
Close the night with a fun, festive song for the last dance. It's often the youngsters -- and young-at-heart -- who remain on the dance floor at the end of a wedding, so choose something upbeat to let the evening end with a burst of energy. DJ Damian P. writes in "Bridal Guide" that he likes to choose music that brings the wedding guests back to a certain time in their lives, such as a classic '80s hit. However, if you want one more slow dance with your honey, you can also ask the DJ to play the ballad that didn't quite make the cut for your first dance.
References
Writer Bio
Kelsey Casselbury is a freelance writer and editor based in central Maryland. Not only a freelance writer, editor, and designer, she is also a mom of a preschooler, a volunteer for two nonprofit organizations, and an avid reader, cook, and piano player. She has a bachelor's degree in journalism from The Pennsylvania State University.
Photo Credits
Konstantin Ratnikov/iStock/Getty Images