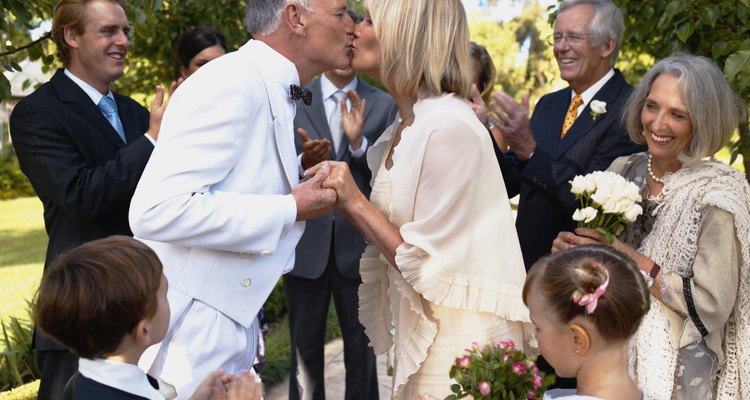 Marc Debnam/Digital Vision/Getty Images
Nobody goes into their first marriage thinking that they might be marrying again in the future -- especially a third time. However, the road to true love can be rocky and forked. If you find yourself in the planning stage of your third marriage, take steps to ensure that the wedding is just as special as the ones prior. However, be aware of some etiquette do's and don'ts so your family and friends are just as thrilled as you are about the walk down the aisle.
Financial Etiquette
It might be tradition for the bride's parents to foot most of the bill for a wedding, but by the third marriage, tradition goes out the window. This is particularly true if they paid for any of the previous two weddings. For a third marriage, proper etiquette dictates that the bride and groom pay for the wedding themselves, unless a family member offers a contribution on his own volition. Don't take the family's closed wallet as a sign of disapproval or ask for their help; rather, take the opportunity to plan the wedding that you want. After all, receiving no financial contributions from anyone else means no obligations to cater toward the tastes of others for the ceremony or reception.
Wording the Invitations
Traditionally, a wedding invitation is worded to indicate who is hosting -- or, in other words, paying for -- the event. If you're paying for the wedding yourself, the proper wording would say something along the lines of, "(Bride and grooms' names) request the pleasure of your company at their wedding." A third-time bride might wonder what name she should include on the wedding invitation -- whether it's her maiden name, a previously married name that she never legally changed, or her betrothed's last name. Wedding website The Knot recommends using the name that most people know her by, even if it's from a previous marriage.
Acceptable Attire
Long gone are the days of a white wedding dress symbolizing the purity of the bride. If you want to wear a white wedding dress down the aisle, no modern etiquette rules state that you can't. Of course, that doesn't mean you must wear a white dress -- for your third wedding, don a cocktail dress, pantsuit or whatever makes you feel like a special bride on your big day.
To Register or Not to Register
Along with the question of creating a wedding registry comes the etiquette of participating in a bridal shower for a third wedding. A third-time bride and groom should not expect wedding gifts, particularly from guests who attended previous weddings. However, it's not improper to create a wedding registry to help out those who want to give you a token of celebration. If you're set up with towels, dishes and other traditional wedding gifts, create a registry at the local hardware store for home repair items or a sporting store for outdoorsy experiences. It's still in poor form, however, to include the registry information on your wedding invitation; spread it by word of mouth. As for the wedding shower, you can accept if someone offers to host one for you. Like gifts, though, it should never be expected.
Dealing With Former Family
Even if you remain close, navigating the murky waters of former family during remarriage can be tricky. If you have children -- particularly those not yet grown -- with a former spouse, it's in good taste to inform both your ex-spouse and the grandparents that you're remarrying. However, do not feel as if you need to invite any former family members to your upcoming nuptials. If you remain close with ex-in-laws and wish them to be present, ask your fiance first how he feels about that addition to the guest list.
References
Writer Bio
Kelsey Casselbury is a freelance writer and editor based in central Maryland. Not only a freelance writer, editor, and designer, she is also a mom of a preschooler, a volunteer for two nonprofit organizations, and an avid reader, cook, and piano player. She has a bachelor's degree in journalism from The Pennsylvania State University.
Photo Credits
Marc Debnam/Digital Vision/Getty Images