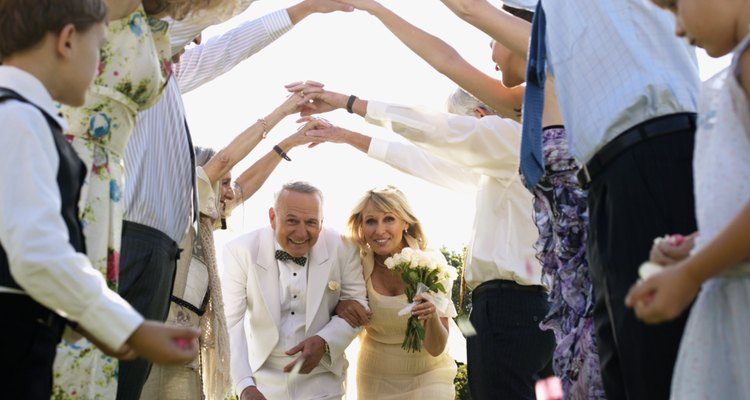 Marc Debnam/Digital Vision/Getty Images
Getting married again after losing a beloved spouse can be bittersweet. You may be full of hope and joy at the start of your new marriage, but the process of planning your second wedding can bring back painful memories of a first happy wedding. There's no way to completely erase the sadness, nor would most people want to, but you can plan your wedding in a way that focuses on the new memories you're creating, rather than the old ones you still cherish.
Engagement
If you are recently widowed, you may want to forego a newspaper engagement announcement and tell your friends and family your news in person or on the phone instead. If you have children, always tell them about your engagement first. If you want to throw a party to announce your engagement, that's perfectly acceptable, but make sure your invitees understand that it's not a shower. It is appropriate for friends or family to give you an engagement shower, if they offer.
Gifts
Many couples don't want gifts when they remarry. This is understandable. People entering into second marriages usually have the basic necessities, and they might feel it's rude to expect friends and family to give them gifts a second time. However, most guests will still want to give the couple a token of their good wishes. Under no circumstances should you write "no gifts" on the invitation, but if you're adamant about discouraging gifts, ask your close family members and wedding party to spread the word. You can also create an alternative registry with fun, inexpensive items that guests can give to encourage moderate spending for those who insist on gift-giving. Tell your close family and wedding party about the registry, but only mention it to other guests if they ask.
Ceremony
For your ceremony, avoid planning a repeat of your first wedding. This is a new marriage with a new partner, and you need to approach it with a fresh perspective. A second wedding is a good opportunity to break free from pomp and formality and get creative. Talk with your officiant about non-traditional vows, or write your own. If you have children, include them in the ceremony, with their permission. Second-time brides often walk down the aisle by themselves or with their new partner, but if you want to be given away by your father or another escort, feel free to do so.
Tradition dictates that a widowed bride wear lavender, but you can wear whatever color looks good on you and makes you feel good. Most second brides avoid pure white and opt for flowers or a headpiece instead of a veil, but these rules aren't hard and fast.
Reception
Although a second marriage ceremony is traditionally a small, intimate affair, there are no rules about keeping the reception small. If you want to have a big party, go for it. It's up to you and your partner what kind of celebration you want to throw, especially considering that the couple themselves usually pay for a second wedding. Whether you'd like an intimate, sophisticated soiree or a fun, wild dance party including everyone and his cousin, the choice is yours.
One reception tip that's usually advisable is to avoid dedications or toasts to your deceased spouse. Everyone at the reception will be aware of your love for your first spouse, and a second wedding reception is the time to celebrate the present and future.
References
Writer Bio
Amy Wilde has worked as a grant developer, copy editor, writing tutor and writer. Based in Portland, Ore., she covers topics related to society, religion and culture. Wilde holds a Bachelor of Arts in English literature and classical civilization from the University of Toronto.
Photo Credits
Marc Debnam/Digital Vision/Getty Images