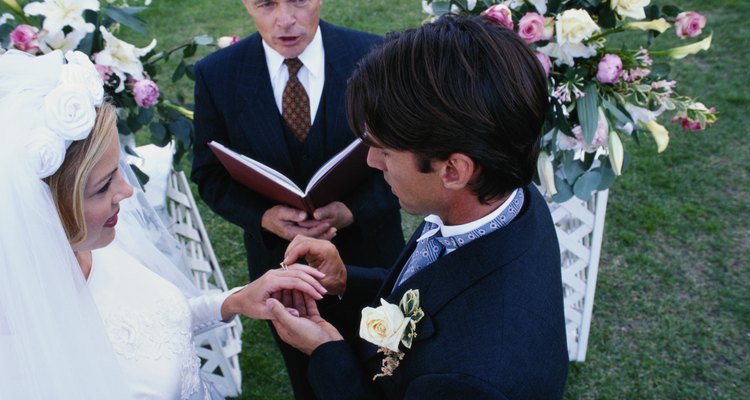 Buccina Studios/Photodisc/Getty Images
It's appropriate to send an invitation to your wedding reception to the officiant who you've asked you marry you, but unless you have a close bond with this person, don't automatically assume that he'll attend. Always extend the invitation to the officiant's spouse and, if the couple attends, seat them at a prominent table.
Extending an Invitation
Many people choose to invite their wedding officiant to the reception afterward, according to wedding planning website The Knot. Doing so is a sign of appreciation for the person who played an integral role in your wedding ceremony earlier in the day. Although you shouldn't feel forced to extend an invitation to the officiant, inviting her is common sense if she's a friend of the family or even a family member.
Officiant Might Decline
If you've decided to invite the wedding officiant to the reception, don't be dismayed if he declines. An officiant who doesn't have a close bond with the married couple has little reason to stay with the group for the rest of the evening. Additionally, if you're getting married during a peak season, the officiant might have to quickly travel to another wedding after officiating yours. In this case, he might tell you he can't stay for the reception or that he might stay for a short while, but leave before the meal.
Sending the Invitation
Upon choosing to extend an invitation to your reception to the officiant, you don't need to send it at a special time. The Knot recommends distributing invitations between six and eight weeks before the event. Given that it's appropriate to book your officiant as much as a year before the wedding, the invitation is merely a formality, given that the officiant already knows about your event. Address the invitation to the officiant and spouse, if applicable.
Seating the Officiant
It's proper etiquette to seat the officiant at a prominent table if he accepts for invitation to stay for the reception. The traditional approach, according to Martha Stewart Weddings, is to place the officiant and spouse at the same table as the parents of the bride and groom.
References
Writer Bio
Toronto-based journalist William McCoy has been writing since 1997, specializing in topics such as sports, nutrition and health. He serves as the Studio's sports and recreation section expert. McCoy is a journalism graduate of Ryerson University.
Photo Credits
Buccina Studios/Photodisc/Getty Images