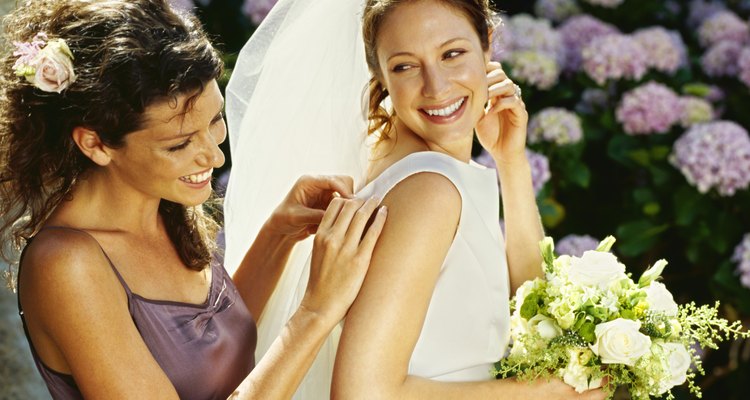 Stockbyte/Stockbyte/Getty Images
It's a major recognition for a woman to be named matron of honor for an upcoming wedding, but this position is far more than symbolic. While it's the bride-to-be who's calling the shots, it's the matron of honor's job to perform a myriad of tasks during the wedding and on the days leading up to the ceremony.
Before the Wedding
The matron of honor's duties begin long before the bride walks down the aisle. "Part worker bee, part emotional lifeboat," as The Knot refers to her, the matron of honor is responsible for such varied duties as planning the bachelorette party, organizing and hosting the bridal shower, keeping track of gifts at the shower, helping with invitations and attending pre-wedding events such as the rehearsal dinner. The matron of honor organizes a day for dress fittings for the bridesmaids, helps arrange transportation to pre-wedding events and ensures that the bridesmaids have their dresses, jewelry and shoes. Typically, the matron of honor pays for her own wedding attire and any travel costs associated with getting to the wedding.
On the Wedding Day
The bride's ability to enjoy her wedding day often hinges upon her matron of honor's aptitude for performing her tasks. On the morning of the wedding, the matron of honor can provide breakfast or lunch for the bride, keep in contact with others in the wedding party to ensure everyone is on schedule, help the bride get dressed and distribute bouquets to the right people. She's also responsible for safely keeping the groom's ring, holding the bride's bouquet during the ceremony and signing the wedding registry as a witness. At the reception, she'll often help set up last-minute decorations, greet the guests, give a speech or toast and, in general, stick close to the bride to perform any tasks as they arise.
References
Writer Bio
Toronto-based journalist William McCoy has been writing since 1997, specializing in topics such as sports, nutrition and health. He serves as the Studio's sports and recreation section expert. McCoy is a journalism graduate of Ryerson University.
Photo Credits
Stockbyte/Stockbyte/Getty Images