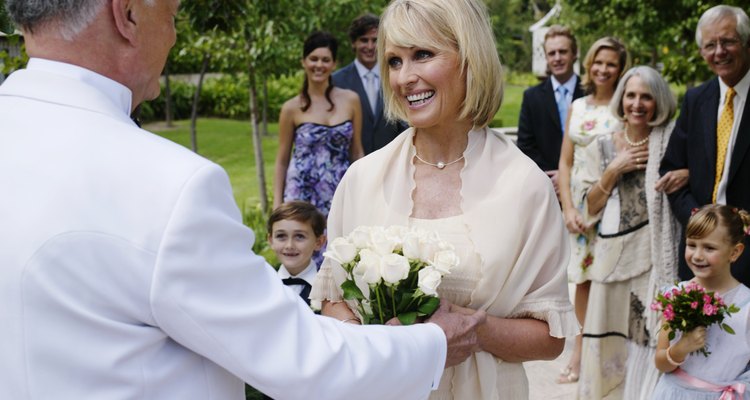 Marc Debnam/Digital Vision/Getty Images
In the past, widowed women who remarried were expected to have intimate, low-key ceremonies with only close friends and family invited to the affair. Today, however, you do not need to adhere to those guidelines. You can plan a second wedding around what makes you, your new spouse and your children comfortable. That should ultimately be your guide as you deal with issues about publicly announcing the wedding, determining the guest list, planning the event and creating the wording for the wedding stationery.
Announcing the Wedding
When you decide to remarry, you should avoid announcing the news publically until you have told your children and the family of your deceased spouse at least. Although past etiquette rules cautioned against posting engagement or wedding announcements for second marriages, nothing is wrong with wanting to share that information with your community. However, you do not want your former in-laws to read about your remarriage in the paper. If you have children from the first marriage, share the news with them first. Then, plan to contact your former in-laws in person or by letter, depending on whether or not you have remained close to them.
Guest List
Second weddings can be as small or as large as you and your new spouse prefer. Guest list decisions should ultimately be decided by both of you, so if your new spouse feels uncomfortable having your first spouse's best friend present you may consider not adding that person to the list. You also do not have to invite your former in-laws to the wedding. The situation may be painful or awkward for them and for you. However, if their grandchildren are going to be part of the bridal party, they may want to be present. Discuss their preference before sending them an invitation.
Planning the Wedding
Many first weddings are paid for by the parents of the bride or shared by other family members. For second marriages, the couple usually covers the costs. Although some etiquette guides will say brides getting remarried should not wear white, most modern etiquette advisers ignore that rule and say brides can wear whatever they want. However, some guests may make comments if you choose to wear a white formal wedding dress to your second wedding. Also, wedding veils are typically not worn for second weddings, but you can wear one if you choose. Even if you do have your first wedding dress, you may not want to wear it for your second marriage. The dress may bring back strong emotions about your late spouse, may stir up feelings in your new spouse, and may also affect your children and others close to you who attended the first wedding.
Wording the Stationery
Second wedding invitations generally do not include the names of the bride and groom's parents. Instead, they are written directly from the couple to the guests. For example, your invitation may start, "Jane Amanda Doe and Tom Robert Johnson request the pleasure of your company..." If you still use your married name, you do not have to revert to your maiden name for the invitation. Some brides want to honor their deceased spouse in the wedding program. You can choose to do this in the "in memory" section of the program that most couples include to honor deceased family members. If you have children from the first marriage, they may appreciate having their parent included. However, make sure the decision does not make your new spouse uncomfortable.
References
Writer Bio
Amy Jorgensen has ghostwritten more than 100 articles and books on raising and training animals. She is also an amateur dog trainer. She has also written more than 200 blog posts, articles, and ebooks on wedding and party planning on behalf of professionals in the field.
Photo Credits
Marc Debnam/Digital Vision/Getty Images