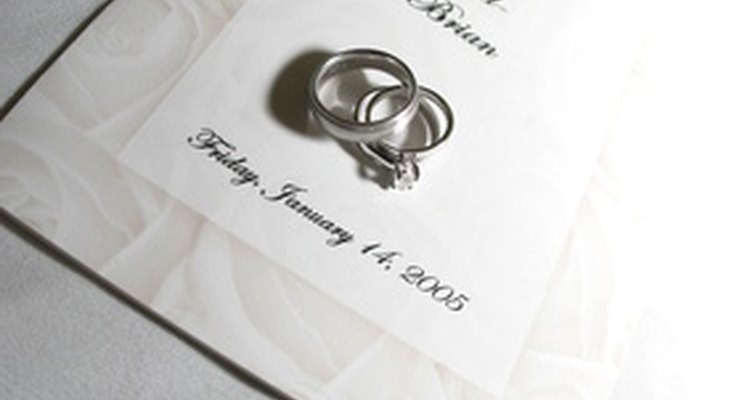 wedding marriage ceremony program with ring image by Paul Retherford from <a href='http://www.fotolia.com'>Fotolia.com</a>
Although programs aren't requirements of a wedding ceremony, providing a program for guests personalizes the event. Couples typically edit their programs according to their personal tastes. However, traditionally, a generic wedding program would list the people of importance and the order that events will occur during the ceremony.
State the details of where and when the wedding takes place. Identify the wedding date, ceremony location and the full names of the bride and groom.
Identify the names of others who are also participating in the ceremony in order of importance. This would probably include the parents' names and the officiant who is presiding over the wedding. In program wording, it would read something like "Bride's Parents: Mr. and Mrs. John Smith, Reverend James Jones Presiding."
List the names of the maid of honor, the best man and the usher or ring bearer.
List the names of the songs that will be played during the wedding and the names of the musicians who will be performing them. You may want to add the names of any readers who will be taking part in the ceremony, as well.
List the schedule of events that will take place during the ceremony. Generally, this would be the welcome section, nuptial prayer, exchanging of vows and rings, etc. This allows guests to follow along during the event.
If necessary, include some information about special cultural or religious customs that are important to the wedding so guests will understand the significance of certain events.
References
Writer Bio
Chrys Lin has been working professionally in journalism since 2003. Her work has appeared in publications in the United States and parts of Asia. She currently resides in Texas and holds a Bachelor of Arts in print journalism.
Photo Credits
wedding marriage ceremony program with ring image by Paul Retherford from Fotolia.com