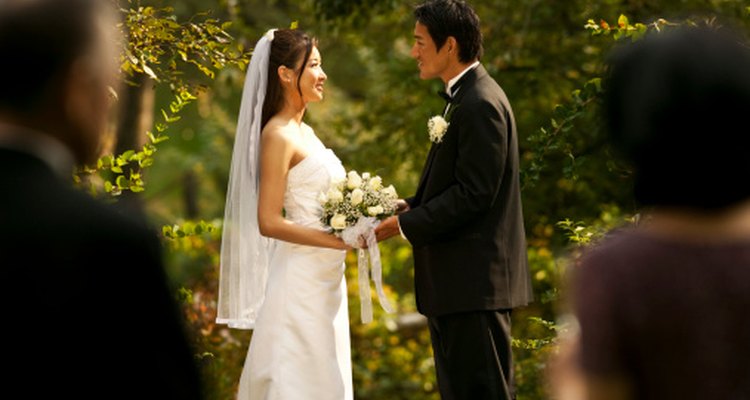 Comstock Images/Comstock/Getty Images
Getting engaged is such an exciting thing. One of the most significant aspects of your wedding plans is the ceremony. It's the official program where all of your family, friends, co-workers and for some, even pets, can witness your union. However, choosing the design of your wedding ceremony depends on where you're having your wedding and what special traditions you two may have. Consider the types of ceremonies to know your options.
Religious
The most common of the ceremonies are religious rituals consisting of a host of practices, prayers and protocol based on the religion you and your fiancé follow. As the number of religions varies from Christian, Jewish, Hindu and many more, so does the list of ways you can run the formal procedures for exchanging your vows. Even within a specific religion, when it comes to the ceremony, there may be some alternatives, such as lighting a candle before you go down the aisle instead of lighting it when you reach the front. Ceremonies of this type tend to be more formal and follow a specific routine including a prayer. Some religious ceremonies restrict deviating from the script where writing your own vows is not allowed.
Civil
Civil ceremonies are usually arranged through the courthouse where a judge or Justice of Peace serves as the officiant of your procedures. This format is commonly stereotyped as being the "easy way" to get married because you have the option to skip the formal, romantic exchange. However, civil ceremonies can be just as beautiful and romantic as you like. You can have a large guest list to attend and hold your event in a variety of venues such as a park, botanical garden or a ballroom.
Non-Traditional
Ceremonies that steer clear of any rhyme or reason or are heavily based on your own eclectic way of planning are non-traditional. These ceremonies are outside of a religious program but can still be held at a religious venue. Perhaps the couple wishes to exchange a token of union to stepchildren or say a few words to honor their parents. Not all non-traditional ceremonies must be so avant garde and crazy that there's monkeys swinging from the pews, however, couples that adjust their ceremony program in a host of ways are typically seen as hosting a non-traditional ceremony.
Other Types of Wedding Ceremonies
There are several other types of wedding ceremonies that can be conducted such as a renewal of vows, a commitment ceremony or military wedding. Military ceremonies are usually held at a military facility or chapel. Other ceremonies include those who practice pagan rituals, medieval ceremonies, which is a lengthy and wordy exchange, and even those that are themed. Themed weddings may contain a special theme and the wording is customized to that of the theme such as a retro rock and roll theme or hip hop ceremony with rapping.
Writer Bio
Crystal Green is a marketing and event management consultant specializing in non-profit organizations and small businesses. Green spent the last seven years working for a statewide education association directing their trade publications, writing articles for programs' training teams and other event-related freelance projects. Green hold a Bachelor's degree in Journalism, and is currently working on advanced degrees.
Photo Credits
Comstock Images/Comstock/Getty Images