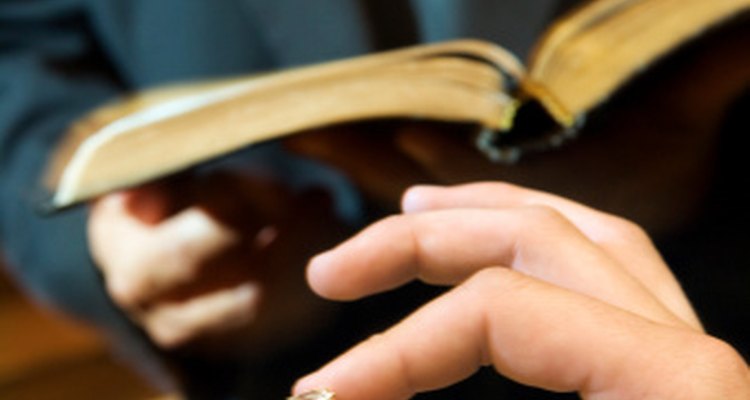 Jupiterimages/Comstock/Getty Images
Tying the knot is just one of many decisions that a couple has to make, but deciding to get married is a big commitment to make, regardless of which ceremony you choose. Some couples opt for a religious ceremony in a church while others opt for a simple courthouse affair in front of a judge.
Civil Marriage and Freedom
A civil ceremony recognizes that the union between the married couple is simply a contractual agreement. The bond between husband and wife meets the state's necessary legal requirements so that the two can exchange property and share marital assets. While the wedding ceremony itself can be as romantic as the couple chooses, the law now recognizes the bride and groom as one.
Religious Weddings and Tradition
While civil ceremonies allow the marrying couple to decide on the type of ceremony of their dreams, a religious wedding follows a certain protocol. Many couples choose religious weddings based on tradition. Families across America have stories of past nuptials that include the dress, the borrowed, the blue and also the church where the couple exchanged their "I do's." Couples may also choose a religious wedding because they want to be married in the house of worship where they grew up.
Location
Civil ceremonies can be held anywhere from a lavish beach in paradise or a home in the country to the county courtroom office. Religious ceremonies are very different. These ceremonies typically take place in a house of worship, and what type of house of worship depends on the religion. Churches, synagogues and other temples all officiate wedding ceremonies, depending on the faith of the marrying couple. Religious ceremonies also use traditional music, or hymns, as a way to commemorate the occasion.
Dress
At a religious wedding ceremony, everyone is dressed to the nines. The bride walks down the aisle in a white gown with a veil and flowers. Her attendants also dress in formal wear, usually in a color that matches the scheme for the ceremony. The groom and his groomsmen are in tuxedos. While a religious wedding is all about the details, a civil ceremony is more loose with its wardrobe rules. Keeping up with its simplistic nature, the civil ceremony calls for whatever attire the soon-to-be married couple wishes to have. The ceremony can be as dressy or as casual as they choose.
References
Writer Bio
Leah Williams has written for many newspapers, magazines, blogs and websites, including the "Mt. Vernon Register-News" and "Nightlife." She has her bachelor's degree in journalism from Southern Illinois University and is now working on her graduate degree. Williams likes to write about parenting, arts and entertainment, education and features.
Photo Credits
Jupiterimages/Comstock/Getty Images