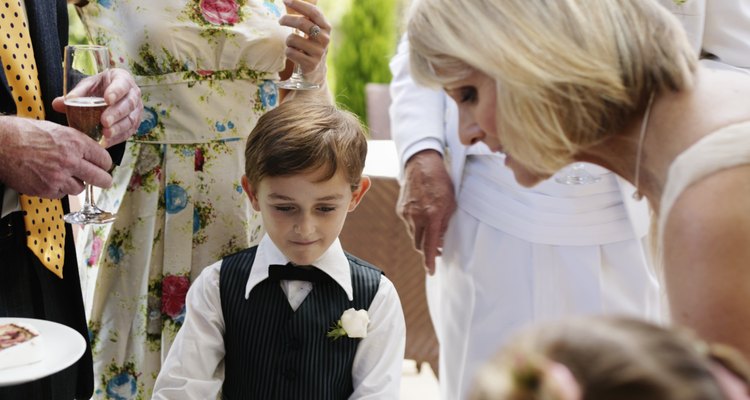 Marc Debnam/Digital Vision/Getty Images
If you don't have a wedding planner or an expert who comes with a resort-wedding package, a hostess and/or host may be extremely helpful in the smooth operation of the rehearsal dinner, wedding ceremony and reception. A bride chooses a close friend or relative who is friendly, efficient, organized and has a "can do" attitude.
Basic Duties
The host and hostess welcome guests to all of the wedding functions, making sure guests sign the book at either the wedding or the reception. They also let guests know where they sit and when it is their table's turn to go to the buffet. They show the guests where the table is for gifts; they also may keep an eye on that table, as well as help out anywhere else they are needed.
Additional Duties
Some of the host and hostess duties may be handled by the groomsmen, such as transporting gifts to the new couple's home or paying the band. Some hostesses and hosts may want to help decorate the rehearsal dinner and manage some of the details of the reception. A good hostess speeds off to the reception venue as soon as the bride says, "I do" to ensure the DJ or band, table arrangements, cake, decorations, guest book and everything else the bride has always dreamed of are ready before the guests arrive.
References
Writer Bio
Nate Lee was senior editor of Chicago's "NewCity" newspaper and creative director in a global advertising agency. A playwright and published poet, Lee writes about the arts, culture and business innovation. He received his Bachelor of Arts in English from Tulane University.
Photo Credits
Marc Debnam/Digital Vision/Getty Images