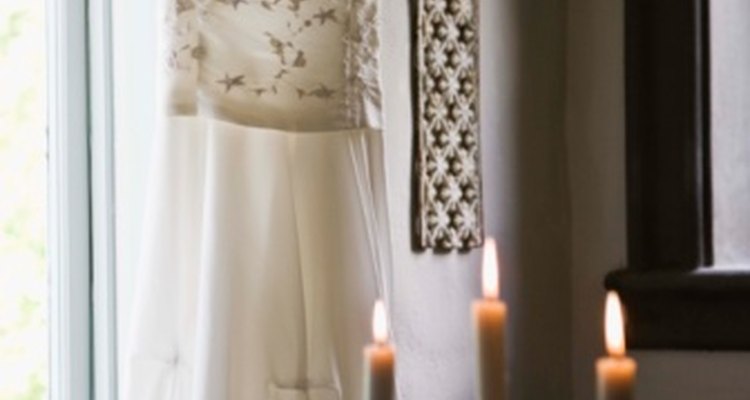 Jupiterimages/BananaStock/Getty Images
Wedding gowns can be extremely expensive, because of that many women are not able to afford their dream dresses. Since most brides only wear their wedding dress once, donating the dress afterward is a helpful idea. Giving away your wedding gown allows another woman to feel beautiful at her wedding or prom, even if she does not have the funds to purchase such a dress. There are multiple places in and around Boston where your wedding gown can be donated.
Contact the organization where you want to donate your wedding dress. Make sure it is currently accepting donations (most places accept donations year round). Some promising organizations in Boston include Brides across America, Priceless Prom Gown Program Fashion and the Northshore Fairy Godmother Project.
Brides across America is a national organization that gives donated wedding gowns to women all over the country who are marrying men in the military. Its headquarters is in North Andover, Massachusetts. Priceless Prom Gown Program Fashion is also located in Andover and provides dresses for prom to local girls who cannot afford to buy a dress.
Northshore Fairy Godmother Project gives prom dresses to girls who cannot afford one. It's located in Massachusetts, with multiple locations around the state. Additionally, gowns can be donated to Goodwill or Salvation Army.
Follow the directions for your organization's website about donating. For example, some organizations will require specific forms to be filled out online or in person before the wedding dress can be donated.
Clean your dress before donating it. This is usually required, as it saves the organization money for dry cleaning.
Ship or drop off the gown according to the organization's directions. Some will only allow dresses to be shipped, while others have multiple drop-off locations.
References
Writer Bio
Amy Ess has been writing both academically and professionally since 2002. She has served as the head grant writer for a nonprofit organization and received her Bachelor of Science degree in sociology from the University of Central Florida. Ess is currently studying for her master's degree in nonprofit management—also from The University of Central Florida.
Photo Credits
Jupiterimages/BananaStock/Getty Images