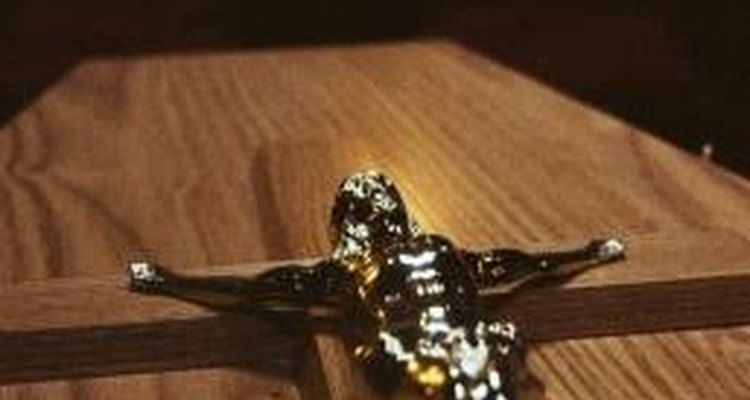 Stockbyte/Stockbyte/Getty Images
Depending on a family's circumstances and the type of service its members favor, several state, federal and private organizations may be able to help with reducing or helping to pay funeral costs for low-income families in Michigan. In addition to these resources, a family's church, synagogue, mosque or other religious institution may help such families shoulder the burden.
Department of Human Services
The Michigan Department of Human Services State Emergency Relief program provides help to families in emergency circumstances. In addition to short-term assistance for heat and utilities, relocation assistance and emergency home repairs, it includes burial services. To qualify, applicants must fill out the Application for State Emergency Relief and include financial information on household members. The Department of Human Services does not provide general guidelines on qualifications but states that local specialists will make determinations "due to many variables."
Social Security
When someone dies, the United States Social Security Administration must be notified. The funeral director will typically handle this automatically. The administration can provide a one-time benefit of $225 to the surviving spouse or an eligible child. While this will not cover the entire funeral cost, it can be helpful to low-income families -- especially if combined with additional assistance. Additionally, the surviving spouse of a Social Security recipient may be entitled to ongoing Social Security payments on behalf of the deceased.
Veterans
For U.S. military veterans and their families, in Michigan and throughout the country, the National Cemetery Administration of the Department of Veterans Affairs provides considerable assistance. For burial in any of 131 national cemeteries, the department provides opening and closing of the grave, a headstone, presidential memorial certificate and a burial flag at no cost to the family. For burial in a private cemetery, the department will provide a headstone, burial flag and memorial certificate at no cost.
Funeral Consumer Information Society
The Funeral Consumer Information Society's Michigan Branch is one place to start, particularly for a low-income family. The Michigan society is part of a national organization that can provide information on resources available to help cover funeral costs. The organization can also provide information on ways to save money on funeral homes, caskets and plots and provide information on the prices a family can expect to pay them as well as answering other questions that may come up.
References
Resources
Writer Bio
Justin Beach has been writing for more than a decade, contributing to a variety of online publications. He has a Bachelor of Science in computer information systems and additional education in business, economics, political science, media and the arts.
Photo Credits
Stockbyte/Stockbyte/Getty Images