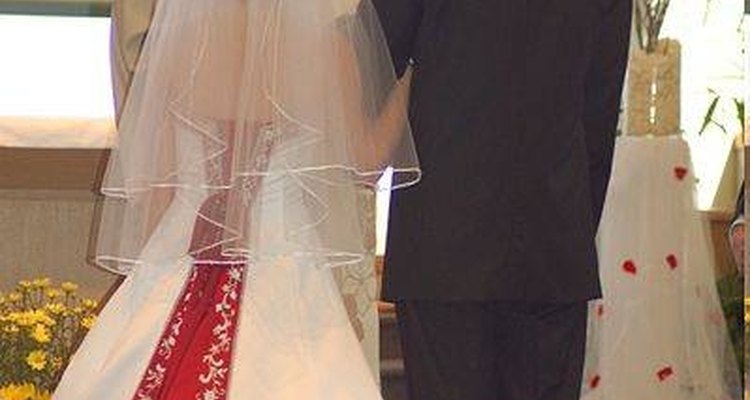 This file is licensed under Creative Commons Attribution ShareAlike 2.0 License
It's not surprising why so many couples opt for a destination wedding nowadays. Romance. Adventure. Exotic locales. But what about couples who want both a Catholic ceremony and a destination wedding?
Planning a Catholic destination wedding may seem like a tough endeavor, but it's much easier than it sounds. With careful planning and organization, a couple can have the Catholic destination wedding of their dreams.
Choose a wedding date and location. Decide with your fiance when and where you would like to get married. If possible, give yourself at least 9 months to book the flight and travel accommodations, speak with your priest, and to complete the premarital preparation course required by the Roman Catholic Church. You should also take into consideration the budgets of your wedding guests. If you choose a far-off wedding location on the other side of the world, then some of your guests may not be able to attend your wedding.
Check local marriage laws in your wedding location. Contact the embassy or tourism bureau to see what requirements you must meet to get married legally. You will need to bring your passport and you may need to show your birth certificate and any court divorce decrees (if applicable). In some countries, you must apply for a marriage license in person or meet a residency requirement. Make sure to arrive at your wedding destination a couple days early to complete any necessary paperwork and procedures.
Make an appointment with your local priest. Tell your priest about your plans for a destination wedding, and have him arrange for you and your fiance to attend your parish's required premarital course. Fill out the necessary paperwork the priest will provide you.
Once the paperwork is approved, your priest must send the documents to his Chancery office. Then, the Chancery must forward the papers to the office of canonical affairs in your wedding location. The paperwork should arrive at the proper office at least 3 months before your wedding date.
Contact a priest who resides in your wedding location. Locate a priest in your wedding destination who can officiate your wedding ceremony. Search for Catholic churches on the Internet, or ask your local priest if he has the contact information for priests in your wedding location. The priest will help you select your ceremony structure and choice of readings.
Book a flight and secure travel accommodations. Check on travel sites like Orbitz, Travelocity and Expedia to find the best deals. You should try to find a hotel that has enough room to accommodate your family, wedding party and other guests.
Send out save-the-date cards. Once you have a set date and location for your wedding, send out save-the-date cards to your guests. These cards are especially important for destination weddings, since guests will have to book a flight and hotel to attend your big day.
Attend the premarital preparation course with your fiance. Class lengths vary from parish to parish, but you will need to complete the course before you can marry in a Catholic church.
Plan your ceremony and reception. Research and hire a caterer, florist, ceremony musicians and DJ or band. Choose your wedding party and finalize your wedding invitations. You may want to hire a wedding planner who specializes in destination weddings to help you make all of your arrangements.
Have a fabulous destination wedding!
Writer Bio
A native of Washington, D.C., Caroline Tung Richmond has worked as a freelance writer since 2007. Her articles have appeared in both print and online publications such as the "Baltimore Sun," "Highlights" and Travels.com. She holds a Bachelor of Arts degree from Brigham Young University.
Photo Credits
This file is licensed under Creative Commons Attribution ShareAlike 2.0 License