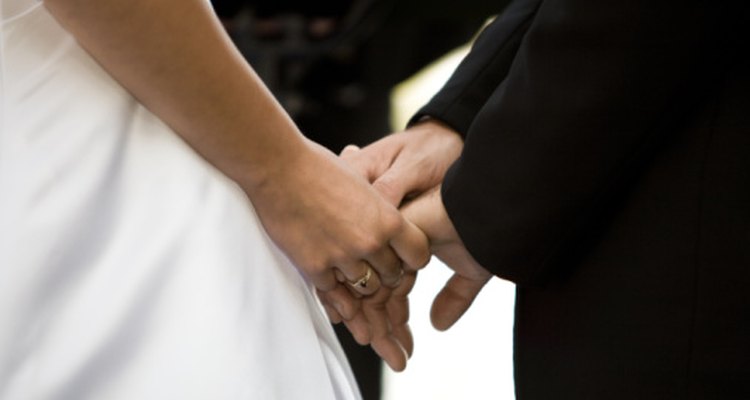 Jupiterimages/Photos.com/Getty Images
You took the plunge and you're engaged. Now comes the hard part: planning the wedding. While it is typical to take about a year to plan a wedding, some couples get married much sooner. You can plan a wedding in four months, but you'll have to work fast, know your budget and make some compromises.
Set the Date and Find a Venue
With only a few months to plan, you should try to be somewhat flexible, in case venues aren't available on your preferred date. If there is no wiggle room on the date, be prepared to have your wedding wherever you can find an opening. As soon as you have the date set, call churches, halls and other event venues to determine availability and budget. Sign a contract as soon as possible.
Hire Vendors
Once the date and place are set, you'll need to hire a photographer, DJ or band, florist and baker. If you are not getting married in a church, you'll also need to hire an officiant. Get recommendations from friends and family and meet all vendors in person to be sure they are a fit for your wedding's style and budget, suggests Nicole Lasorda of Let's Have a Ball Events.
Choose a Bridal Party
You'll want to ask friends and family early on, as a wedding can be a significant commitment both financially and time-wise. Keep in mind that your bridal party may not have the time or resources to pull together an elaborate bridal shower or bachelorette/bachelor party.
Purchase Wedding Attire
Book an appointment to go wedding dress shopping during month one of your planning and bring bridesmaids with you to select their attire as well. Keep in mind that couture bridal gowns often take up to six months to come in, so your selections may be limited to off-the-rack styles.
Create a Guest List
You should have a final guest list ready by the beginning of the second month of your planning window. Work with your families to get names and addresses of all VIPs. Set guest list expectations with parents early if you are footing the bill as a couple.
Send Invitations and Make Travel Plans
Invitations should be sent about two months in advance, according to Real Simple. If most of your guests are coming from out of town, you'll want to give them as much notice as possible. Call hotels to set aside a block of rooms for your guests and include information on lodging options in your invitations.
Go Shopping
Register for gifts so you are prepared for any bridal showers that family or friends may host for you. Wedding guests will also want to purchase from the registry. At this time you should also buy wedding rings and other items you will need, such as wedding day shoes, favors, centerpiece items and bridal party gifts.
Apply for a Marriage License
Check your area's requirements for marriage licenses; USMarriageLaws.com has a comprehensive list of requirements by state. You may need to get blood tests as well, depending on where you live. Most states require a waiting period of several days after the license has been ordered, so applying a few weeks or a month before the wedding is a sound idea.
Arrange Last-Minute Details
In your last weeks of planning you should wrap up all of the details. This includes confirming with vendors, making a seating chart, assembling favors, attending final dress fittings, writing your vows and cutting checks for final vendor deposits. Real Simple suggests choosing a person to be in charge of small day-of tasks, such as keeping track of gifts and helping with your dress.
References
Let's Have a Ball Events; Interview
Writer Bio
Based in Philadelphia, Eliza London has been a freelance writer since 2004. Her work has appeared in business and retail trade magazines, as well as on numerous websites. London holds a Bachelor of Arts in journalism from Susquehanna University.
Photo Credits
Jupiterimages/Photos.com/Getty Images