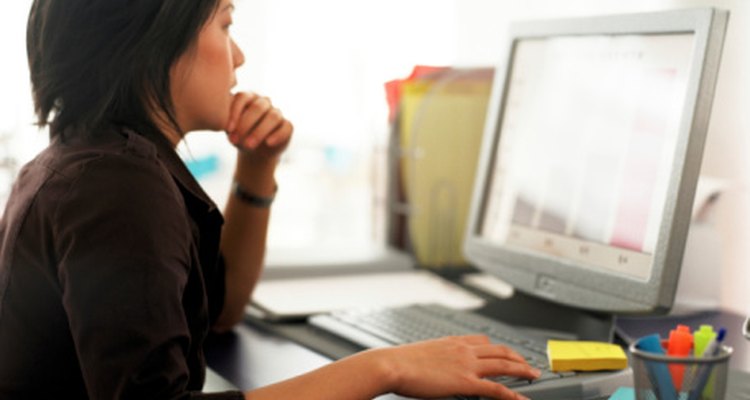 Ablestock.com/AbleStock.com/Getty Images
Perhaps you want to attend a trial to support a friend or loved one, or maybe you want to attend a trial that you have been reading or hearing about in the media. There are numerous free ways to find out trial dates. For instance, you can often look up court case information, that includes trial dates, in online dockets -- some are free and some charge minimal fees. Another option is contacting the litigants, witnesses, attorneys or court clerks.
If the trial proceedings are being covered routinely by the media, check with the media outlet to find out trial dates. They may be published in articles on the trial, either online or in print. If not, call the reporter covering the story to find out the court date.
Check online court dockets. Many courts have online resources for checking the dates, times and locations for upcoming trials. Check the appropriate county government website to find the court clerk's website. If available online, links to court documents will be in this section.
If online court documents are not available on the court clerk's website, call and speak to a court clerk. Genealogy.com offers free county court lookups, and Uscourts.gov offers free federal court lookups. Court websites typically list phone numbers, email addresses and fax numbers for clerks. In most cases, court dates are a matter of public record, but there are instances when court dates are not disclosed to the public. Also, even if a court date is made public, it is possible the hearing could be closed, so verify with the clerk that the general pubic will be permitted to attend the court proceedings.
Ask the person. If you know the plaintiff or defendant, contact that person and inquire the day, time and location for the trial. If you do not know the person well, politely introduce yourself and explain the reason for wanting to know the trial date.
Contact a witness. If you know any witnesses scheduled to testify at the trial, contact him and ask for the trial date. If you do not know the witness well, introduce yourself and explain the reason for your inquiry.
Make contact with a law firm. News items, articles or other sources often mention the names of lawyers or their law firms involved in a litigation. Call or email the law firm that is representing either the plaintiff or defendant and ask for the trial date. Be professional in your request and be prepared to explain why you are making the inquiry.
References
Resources
Writer Bio
In 1997 Harlequin published Colleen Collins' first novel, followed by many more by Harlequin and Dorchester. Her articles and writing have appeared in "P.I. Magazine," "Pursuit Magazine" and "Cosmopolitan." She earned a B.A. in theater arts from University of California, Santa Barbara and is an active member of Mystery Writers of America.
Photo Credits
Ablestock.com/AbleStock.com/Getty Images