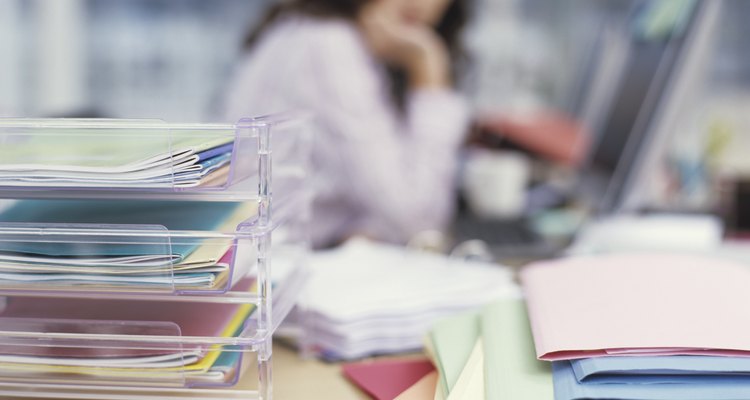 Ciaran Griffin/Stockbyte/Getty Images
You can request a certified copy of the order to change your name from the issuing court for legal proof of the new name. Both the local Social Security office and state department of motor vehicles will ask for official proof of the change when you change your name on your state identification and Social Security card. Using identification that shows your new name makes using that name much easier. You also need a copy if you want to change your name on your birth certificate and for other entities, such as your bank.
Determine where the name change was granted if you don't have any papers from the name change. Name changes are typically filed and granted in the court of the county you lived in at that time.
Contact the court clerk of the county court that handled the name change. Visit the official website of the state court system to locate courts in the county. If you have any court papers relating to the name change, the court information is given at the top of the papers. Ask the clerk what form and documents you need to a get a copy of the name change certificate and the fee amount.
Gather documentation. You commonly need a certified copy of your birth certificate and valid identification, such as your license or a U.S. passport. Visit the official website of your state's department of vital records to see options for getting a certified copy of your birth certificate.
Complete the request form. Forms vary by court, but you usually need your original name, current name, address, birth date, birthplace and Social Security number. Follow any instructions given on the form. Sign and date the form.
Submit the form and the fee to the court. Some courts require you submit the form in person, while other courts allow mail-in requests. Check the form's instructions to determine what you must do. Contact the court clerk if you're unsure.
References
Writer Bio
Anna Assad began writing professionally in 1999 and has published several legal articles for various websites. She has an extensive real estate and criminal legal background. She also tutored in English for nearly eight years, attended Buffalo State College for paralegal studies and accounting, and minored in English literature, receiving a Bachelor of Arts.
Photo Credits
Ciaran Griffin/Stockbyte/Getty Images