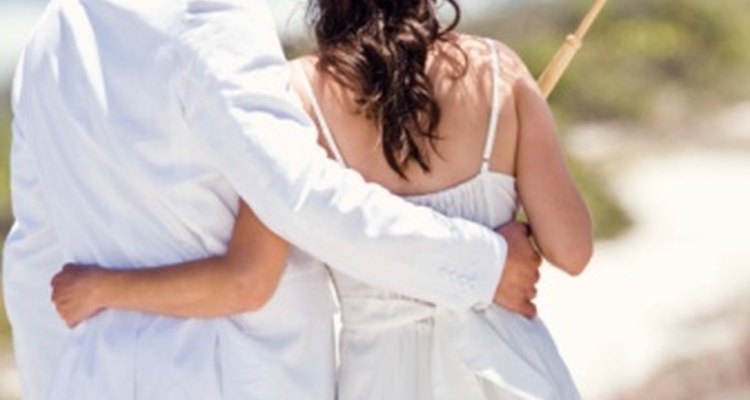 Jupiterimages/Polka Dot/Getty Images
An age old tradition for newlyweds is for the bride to abandon her maiden name in favor of her hew husband's surname. More modernly, however, it is also common for a newly married woman to hyphenate her maiden name and new husband's name or to make the decision not to take on her husband's last name at all. In some cases, men are even opting to take their wife's name. For those that wish to change their name after marriage, the process isn't difficult, but it is time consuming. Once the marriage certificate arrives in the mail, the process begins.
Take your marriage certificate to your local New Jersey Social Security Administration (SSA) office to start the name change process by changing the name on your social security card. Fill out form SS-5, which you can obtain and fill out at the SSA office or download from the SSA website and fill out prior to visiting the SSA office. Input your name, address, birth information and the names and social security numbers of the parents listed on your birth certificate. On the correct line, enter the name you want on your new social security card. Submit your application, photo identification and a certified copy of your marriage certificate to obtain a new SS card. Your new card will arrive in the mail seven to 14 business days later.
Get a new driver license. Locate your local driver license office, a division of the New Jersey Motor Vehicle Commission to apply for a new license. Take your current license and your marriage certificate to the licensing office and request a new license. Pay the fee associated with obtaining a new license, take a new photo and ask to have your voter registration and vehicle registration updated to reflect your new name, as well. Your new license is issued while you wait.
Notify your employer and banks that you've changed your name. Take copies of your marriage certificate or your new driver license to the Human Resources Department of your employer and the accounts clerk at your bank. Some employers and some banks might require you to sign a form stating that you requested your name change and some will not require this – it all depends on the company policy at your place of employment and your bank.
Write to your credit card companies, utility company, insurance company, mortgage company and your car note companies. In your letter explain that you have recently wed and want your name changed on your paperwork. Mail your letters with copies of your marriage certificate and your new driver license. Confirm your name was changed in each companies system when your next billing statement arrives.
Change the name on your online accounts, magazine subscriptions and your memberships, such as your frequent flyer mile memberships. These can be done by visiting individual websites and updating your account information.
References
Writer Bio
Tiffany Raiford has several years of experience writing freelance. Her writing focuses primarily on articles relating to parenting, pregnancy and travel. Raiford is a graduate of Saint Petersburg College in Florida.
Photo Credits
Jupiterimages/Polka Dot/Getty Images