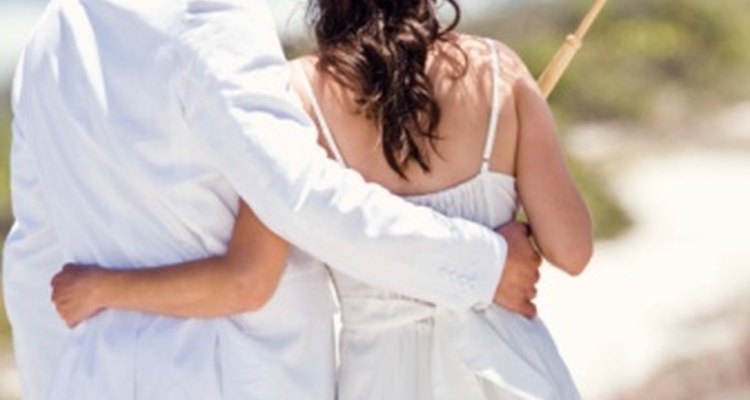 Jupiterimages/Polka Dot/Getty Images
You've chosen a wedding dress, you've chosen your menu and you've chosen all of your first dance songs. The wedding is over, and it's time to choose whether or not you want to change your name to that of your new husband's. Once your officiant files your marriage license with the Wisconsin County Clerk's office in the county where your wedding took place, you will receive a certified copy of your marriage certificate in the mail. While your marriage certificate serves as legal proof of your name change, it does not change your name for you. Until you contact all of the correct companies, your name does not change.
Visit a Wisconsin Social Security Administration office to begin changing your name. The SSA is the first place you must notify of your name change because your name cannot change until it is changed on your social security card. Fill out the name change application (Form SS-5) and present the SSA with a certified copy of your marriage certificate. Your new social security card will arrive a few weeks after you apply for a new one. The SSA notifies the Internal Revenue Service of your name change for you.
Notify your employer of your new name. If required, present a copy of your certified marriage certificate as proof.
Visit the Wisconsin Department of Motor Vehicles to obtain a new driver's license. Bring with you a certified copy of your marriage certificate. While waiting for your new license, change the name on your voter's registration and vehicle registration as well.
Call your credit card companies, mortgage company, car loan lenders, utility companies and your bank to notify them of your name change. Each company requires different proof, which could be a copy of your marriage license or a copy of your new driver's license.
Change your name on your passport by visiting your local passport acceptance facility to pick up the correct name change form. The correct form depends on the age of your current passport.
Notify all companies with which you have subscriptions or memberships, such as magazines, frequent flier memberships, gyms and country clubs.
References
Writer Bio
Tiffany Raiford has several years of experience writing freelance. Her writing focuses primarily on articles relating to parenting, pregnancy and travel. Raiford is a graduate of Saint Petersburg College in Florida.
Photo Credits
Jupiterimages/Polka Dot/Getty Images