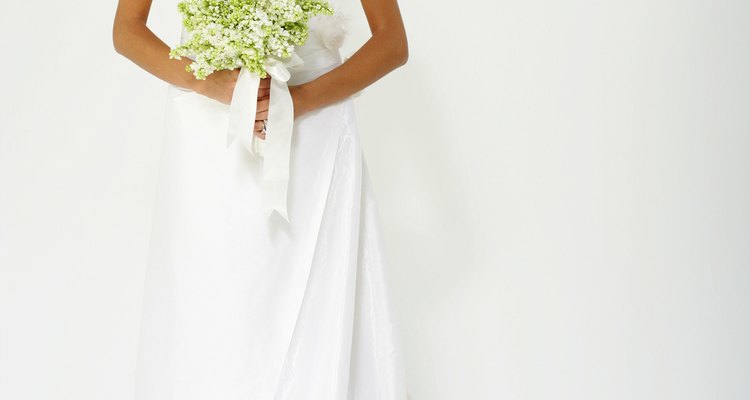 Goodshoot/Goodshoot/Getty Images
Aside from paying a base rate, some wedding vendors expect a gratuity on top of their services. However, with so many different vendors involved in your special day, it's hard to keep track of who you're supposed to tip. For example, should you tip a wedding dress assistant who provides great service while you're shopping for a dress? The answer is probably not.
Store Policies
Some bridal dress stores institute policies that strictly forbid their employees from accepting tips from customers. Therefore, refrain from giving someone a tip if such a policy exists. This avoids placing the worker in the awkward situation of being forced to refuse your generous offer. However, one way to recognize the assistant is to speak with the owner or manager, singing the praises of the person who provided you with excellent service.
Commission
Depending on the payment structure of the store, the wedding dress assistant may receive commission for selling you the dress. Therefore, by simply purchasing you're putting extra money into the pocket of the salespeople who helped you try on various dresses. Typically the owner of the store does not take a commission payment, so if an assistant is helping the owner, it is likely she'll receive the commission and it won't be split. Additionally, recommend the bridal store to family and friends as a way of bringing the store, and ultimately that assistant, more business.
Seamstress
According to Martha Stewart Weddings, a seamstress does not expect a tip from you for working on your dress. However, a small gift such as a picture of you in the wedding gift is a nice gesture. The picture also demonstrates the quality of her work and is something she may decide to use as a marketing tool for her seamstress business.
Small Gift
While it may be against store policy to give someone a cash gift, if you feel the wedding dress assistant went above and beyond her job and you'd like to recognize her, send a small gift such as a bouquet of flowers, chocolates or a bottle of wine. If a gift is out of your budget range, a hand-written note or email is a very nice gesture of thanks.
References
Writer Bio
Scott Damon is a Web content specialist who has written for a multitude of websites dating back to 2007. Damon covers a variety of topics including personal finance, small business, sports, food and travel, among many others.
Photo Credits
Goodshoot/Goodshoot/Getty Images