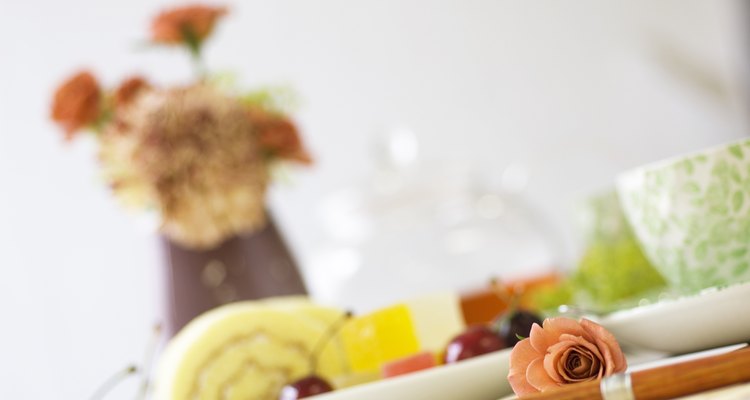 amanaimagesRF/amana images/Getty Images
From their 1961 Liverpool debut and "Love Me Do"; to the record-breaking reception in the United States, beginning with their memorable performance on the "Ed Sullivan Show"; to their winding road of ground-breaking music, to their break-up album in 1970's "Let It Be"; The Beatles have impacted the lives of thousands of people. Whether your birthday honoree grew up listening to The Beatles or is a late-bloomer, a Beatles-themed party is just the ticket to ride through a fun night of music, games and food.
Strawberry Fields
Set up Beatles-themed food stations: Guests dip into seafood hors d'oeuvres in the "Octopus's Garden" and create sandwiches at the "Yellow Submarine." Trays of strawberry confections populate "Strawberry Fields Forever," and tiered cake stands become tangerine trees towering over marshmallow pies at "Lucy in the Sky." Designate each theme with Beatles art, such as a submarine with a 12-inch yellow-colored roll and four periscopes made with carved carrots and radishes. Add pictures of John, Paul, George and Ringo smiling from the portholes. Or designate each station with a movie or album cover. Play with the condiments: Sergeant Pepper escorts the "Lonely Hearts" salt shaker, while the Eggman expresses himself in deviled eggs with veggie-art facial features and John Lennon glasses, and Mean Mr. Mustard glowers.
At the beverage table, serve various teas, the drink most-often mentioned in Beatles songs, according to Beatles' scholar Martin Lewis. In lieu of a buffet, serve a high-tea, with a whimsical tea setting that includes The Beatles' most-mentioned food, honey, along with dainty sandwiches and pastries.
Here, There and Everywhere
When decorating the walls, tables and the party venue, combine Beatles and birthday themes. Create a visual timeline on the walls of The Beatles' and the birthday honoree's major life events. Since music often makes people remember experiences they had while listening to a song, select pictures from important, happy events that coincide with the time when a certain Beatles' song was a radio hit -- just about anytime in the 1960s. For wall decor, use stencils and poster board to cut out memorable lyrics to attach to the wall.
Place bunches of black and white balloons around the room -- to match the Fab Four's early attire and album covers -- and cookie bouquet centerpieces featuring black and white icing photos -- one stemmed cookie for each member of The Beatles and one for the birthday honoree. Hang a banner in a prominent spot with excerpts from the Beatles' "Birthday" song. "They say it's your birthday....We're gonna have a good time...."
A Day in the Life
Create a slideshow of the birthday honoree's special moments and milestone events, and create a coordinating soundtrack of suitable Beatles songs. For example, the 1963 hit, "I Want to Hold Your Hand," sets a fun and sentimental mood for viewing the birthday celebrant at 5 years old, holding hands with his mother, a little friend, and later with a prom date, followed by a spouse. Organize pictures thematically to coordinate with the soundtrack you create. Include humorous but not embarrassing moments.
Roll Over Beethoven
Depending on the budget, hire a Beatles' tribute band, or create a playlist and set up speakers. Play Beatles' movies such as "Help," "Hard Day's Night" and "Yellow Submarine" on flat-screen televisions mounted high on the walls in various corners of the venue. The lively tune and lyrics of the Beatles' "Birthday" song will get your guests on the dance floor, so it's a good one to open with.
Games With a Beatles Twist
Traditional games that lend themselves well to a Beatles theme suitable for both young and old include musical chairs, "name that tune" and charades. For the latter two, start with popular songs and sprinkle in a few obscure titles. The all-time top 100 Beatles' hits, as listed by Billboard, include: "Hey Jude," "I Want to Hold Your Hand," "She Loves You," "Get Back," "Let It Be," "Come Together" and "Something," "Hello Goodbye," "A Hard Day's Night," "We Can Work It Out," and "Can't Buy Me Love. Set up a karaoke machine and have your guests sing along. A costume relay race or costume contest includes items such as Beatles books, jackets with Nehru collars a la Sergeant Pepper, go-go boots, John Lennon glasses, Beatles wigs, as well as costumes depicting characters from their songs, such as Mr. Kite, Lady Madonna and the walrus.
References
Writer Bio
Cindy Blankenship, a California native, began reporting in 1996 for the Grants Pass Daily Courier after teaching in Hawaii where she lived 14 years. As assistant editor at the Rogue River Press, she wrote and edited several stories that earned awards from the Oregon Newspaper Publishers Association. Her writing appears in numerous publications.
Photo Credits
amanaimagesRF/amana images/Getty Images