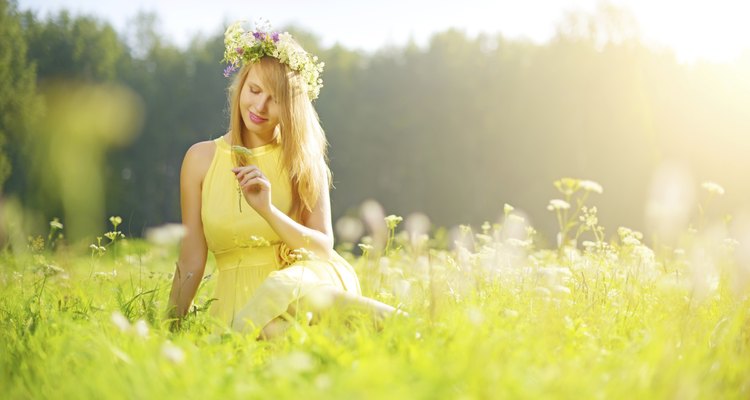 Anmfoto/iStock/Getty Images
Crown yourself with a floral Renaissance headpiece of your own making. Renaissance headpieces, or circlets, are easy-to-wear crowns that can be made with silk or fresh flowers. These circlets are easy to construct, and the pattern can be adapted for many Renaissance headpiece looks, including wedding veils and royal crowns. Any color flower, garland or ribbon can be used to create a floral Renaissance headpiece.
Basic Floral Circlet
Wrap a section of floral wire around your head to determine the correct size for the circlet. Add an extra inch so that the two ends can overlap.
Tape the overlapped section of wire together. Set the circlet back onto your head to see if any adjustments need to be made. Adjust the size if needed. The taped side is the back of the circlet.
Cut the red and white ribbon into 1 yard sections. Overlap one end of each section over the back of the circlet. Hot glue it in place. Add more ribbon to the back until all of the ribbon is used.
Add a dot of fabric glue to the end of each ribbon. Spread it across the end of the ribbon to prevent unraveling.
Attach the ivy garland to the circlet. Tape one end of the garland to the back section of the circlet. Wrap the garland in close tight loops to create a full headpiece. Add tape as needed to secure it in place. Cut the excess ivy garland away.
Attach the maple leaf garland to the circlet. Weave the maple leaf garland through the ivy garland. Add tape as needed to secure it in place. Wrap the maple leaf around the circlet twice. Cut the excess maple leaf garland away.
Cut the stems off of the silk flowers. Add a dot of hot glue to the undersides of the flowers to prevent the flowers from coming apart.
Hot glue the red and orange silk carnations to the circlet. Space them out evenly.
Hot glue the silk daisies to the circlet. Place them onto the circlet in a random pattern.
References
Writer Bio
Susan Elliott teaches studio art and creative writing to home schooled students. She is a graduate of Northwest Arkansas Community College and the Memphis School of Preaching Student Wives Program. She has written for Christian Woman Magazine and Virtuous Magazine. When she's not writing, she is painting or making costumes.
Photo Credits
Anmfoto/iStock/Getty Images