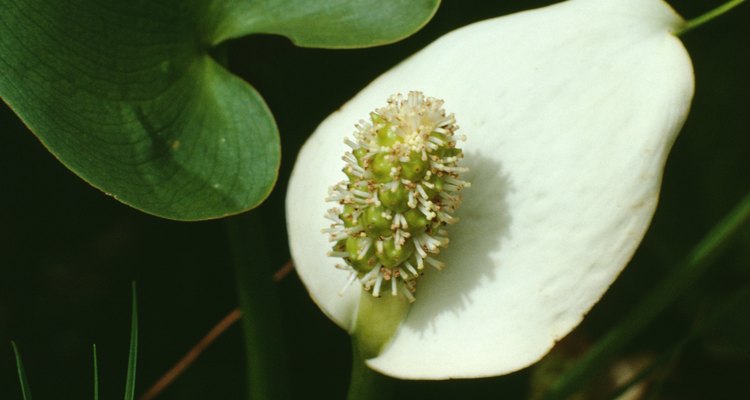 Photos.com/Photos.com/Getty Images
Bridesmaids' bouquets should reflect the bride's flowers and work well with the wedding decoration colors. Calla lilies are a beautiful and unique choice for wedding flowers and can work with many different wedding color combinations. You can make bouquets for the bride and bridesmaids out of silk flowers to lower your costs and create an everlasting memento from the big day.
Wrap a piece of floral wire around a stem of an ivy leaf to extend the stem and make it easier to tie the leaf into the bouquet. Wrap the wire with floral tape. Repeat with the number of ivy leaves you want to include in the bouquet. For a simple, clean look, leave the leaves out.
Arrange the calla lilies in your hand or in a narrow vase, pointing the flowers in the direction you like best. Some people opt to have the flowers face in the same direction, or you can choose to have the trumpets of the flowers point away from the center of the bouquet. Adjust the flowers until you are happy with their arrangement.
Arrange the ivy leaves in between the calla lilies or around the outside of the bouquet.
Tie a piece of string around the stem of the center flower, and wrap the string around the stems to secure the flowers together. Knot the string firmly once you have securely wrapped the stems.
Wrap a wide piece of satin ribbon around the stems to conceal the string, and tie into a knot or bow, depending on the look you want for the bouquets.
Trim the ends of the silk flowers and ivy wires with the wire cutters so they are even and not too long. Wrap a piece of floral tape around the bottom of the stems to prevent snagging from the wires.
References
Writer Bio
Alane Michaelson began writing professionally in 2002. Her work has appeared in Michigan publications such as the "Detroit Free Press" and the "Flint Journal." Michaelson graduated from Oakland University in 2006, earning a Bachelor of Arts in journalism.
Photo Credits
Photos.com/Photos.com/Getty Images