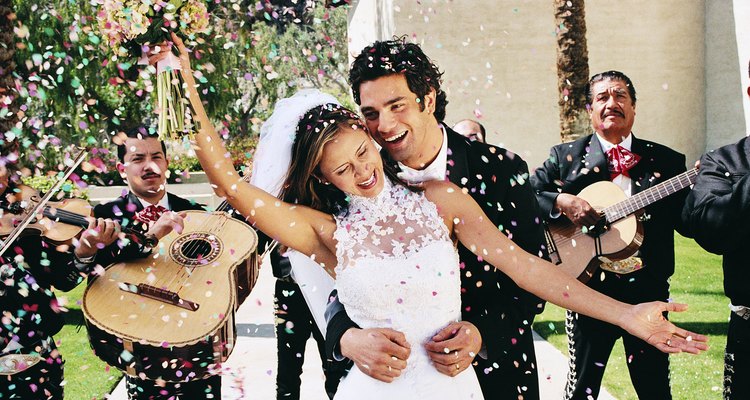 Digital Vision./Digital Vision/Getty Images
Some bridal couples plan backyard and garden weddings to save money on expensive venue rentals and decor. Depending on the climate and location of the wedding, natural beauty--sunset, flowers, water, trees--may replace the need to allocate chunks of your budget to expensive lighting or floral arrangements. However, having an outdoor wedding may require you to be more creative in other areas: like putting a dance floor where mother nature has not seen fit to put one.
Purchase 10 ft x 10 ft medium density fiberboard, MDF, from your local hardware store. Make sure your board is 3/4-inch thick. Stain and finish it. Then customize the board with your wedding monogram and lay it in the center of your reception area.
Buy click-lock laminate wood flooring and assemble it by locking the planks together as instructed on the box. Cement the flooring to a large piece of plywood to ensure it does not separate throughout the night. If you are placing the board on top of concrete or asphalt, place a foam layer between the board and the ground.
Install plexiglass sheets over a small backyard pool to allow guests to walk and dance on water or rent an already made pool cover. The plexiglass and installation could be costly, but manageable if you are saving money on venue rentals and other decor by having the wedding at home.
Buy interlocking modular flooring. These floors are typically sold in 3 ft by 3 ft square sheets of wood or faux marble and snap together easily. They are the same floors many party companies rent at higher rates. Customize the size of the floor based on your wedding guest list. Try reselling it after the wedding.
Place jute rugs or bamboo area rugs over a concrete patio. This will tie a less aesthetically pleasing patio into the nature theme. Throw in flip flop wedding favors to help guests with uncomfortable dress shoes dance on the concrete.
Use the ground! Section off an area of the grass or sand (for beach weddings) and encourage your guests to take of their shoes. Surround the area with Christmas lights or a rope fence. Most guests who know the wedding will be at the beach or another informal outdoor venue are likely to come prepared for the elements.
Check out Craigslist or classified ads for recycled dance floors from other do-it-yourself brides in your town and surrounding areas.
References
Writer Bio
S.F. Coleman received her B.A. in English from the University of Central Florida and her M.A. in English literature from the University of North Carolina. She taught college writing courses for two years and has been writing poetry, short stories and essays for more than 10 years.
Photo Credits
Digital Vision./Digital Vision/Getty Images