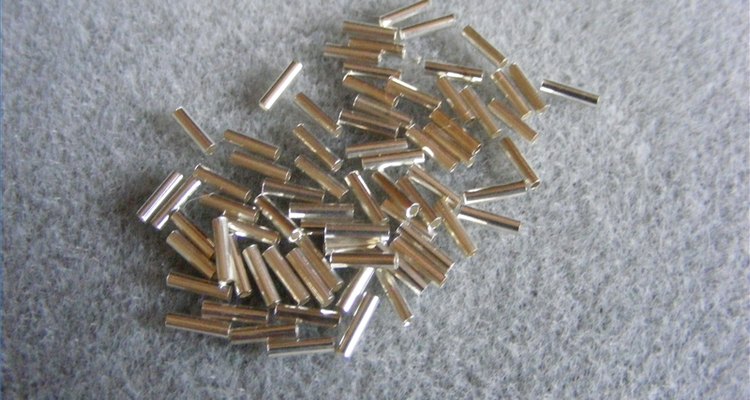 Beth VanHoose
Liquid silver jewelry is less expensive than sterling silver, and it looks just as nice. The small silver beads imitate a seamless silver rope when strung together. Making your own liquid silver jewelry allows you to be creative. Liquid silver beads come in several forms: heishi (pronounced hee-she), tube, capsule and corrugated. Heishi and tube beads are the most popular liquid silver beads to use when you are looking for a smooth, liquid look to your jewelry. If the liquid silver will be secondary to the design, capsule or corrugated beads are good to use as spacers. Liquid silver is versatile and can be used in just about any form of jewelry you wish to create. Liquid silver loop earrings are easy and fun, and will go with just about any outfit.
Cut two 5-inch long pieces of beading wire. Lay one wire to the side.
Select 28 1/4-inch-long liquid silver tube beads.
String 14 of the beads onto one of the wires.
Gather the two ends together and string both ends through one of the crimp tubes, forming a teardrop loop with the beaded wire.
String both ends through the loop on one of the earring fish hook wires.
Thread both ends of the beading wire back through the crimp tube, pulling the earring wire close to the crimp.
Flatten the crimp tube with the crimp pliers, or use flat-nosed pliers if you don't have crimp pliers.
Trim the excess wire close to the crimp. Be careful not to cut through the beaded part.
If you want a more finished look, you can place a crimp cover over the crimp.
Repeat these steps for the second earring.
Writer Bio
Beth VanHoose is a freelance writer,with experience writing for the web in a variety of subjects since 2006. Her work can be found on eHow and Trails.com. Prior to becoming a full-time writer, VanHoose worked in broadcast television. VanHoose holds a Bachelor of Science degree from Northwest Missouri State University.
Photo Credits