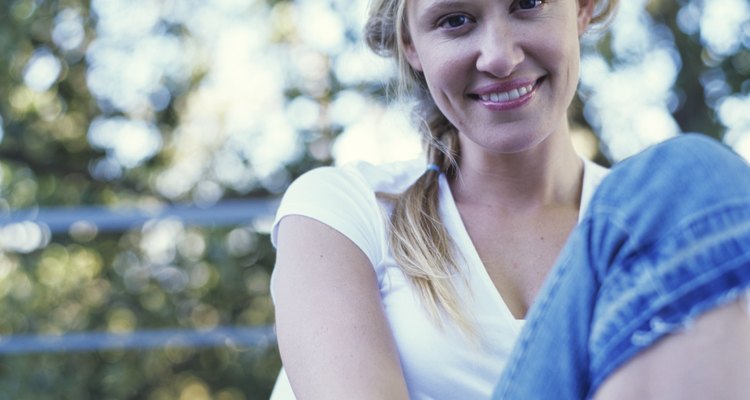 Ciaran Griffin/Stockbyte/Getty Images
V-neck shirts are one of the most universally flattering tops available -- no matter what your body shape or size, a "V" neckline instantly helps you look longer and leaner. But when you're dealing with a plain V-neck tee, it may not exactly seem like the most exciting wardrobe piece in the world. But its versatility allows you to come with a variety of looks that range from comfortable and casual to stylish and chic. You just have know which companion pieces give you the look you want.
Keep It Casual
A plain V-neck works as a foundation piece for a relaxed, comfortable outfit. Go for a classic look by pairing the tee with your favorite jeans. Opt for a simple straight-leg pair or play up the casual look of your V-neck with slouchy boyfriend jeans. If your top is long enough to cover your backside, wear it with skinny jeans or leggings. Corduroy or twill pants and a tee equal a casual look. Add your favorite tennis shoes, ballet flats or boots, and you'll be ready for school, running errands or lunch with your friends.
Dress It Up
A V-neck just begs for layers, so you can easily dress it up when you want to make a bold statement. For an evening out, wear it under a fitted blazer with dark-wash jeans and heels for a sexy, relaxed vibe. At the office, use it as the bottom layer under a blazer and add a pencil skirt or trousers to give it a more polished look. Wearing a fitted cardigan over your V-neck also makes it look more professional.
Go Monochromatic
A V-neck is flattering on virtually every body type and shape because it helps elongate the upper body. If you want to maximize the slimming effect of a V-neck, pair it with monochromatic pieces. For example, if you're starting with a black V-neck, wear it with slim black pants and matching boots to create a single, continuous line for your body that makes you look taller and thinner. You can create a monochromatic look with any color V-neck, though darker shades like black, charcoal, navy and brown are usually most slimming.
Make Your Shirt Sing
With its deep neckline, a plain V-neck is a go-to top when you want to showcase some impressive accessories. In particular, the neckline makes it a natural for a bold statement necklace. If your shirt is a neutral color like white, gray or black, add a punch of color with a bib-style necklace in a bright shade like tangerine or turquoise. A pendant style necklace that mimics the long look of the neckline gives you a low-key vibe. Or spice up a plain V-neck with a funky animal or floral print scarf knotted around your neck.
References
Writer Bio
Based in New York City, Jennifer Blair has been covering all things home and garden since 2001. Her writing has appeared on BobVila.com, World Lifestyle, and House Logic. Blair holds a Bachelor of Arts in Writing Seminars from the Johns Hopkins University in Baltimore, Maryland.
Photo Credits
Ciaran Griffin/Stockbyte/Getty Images