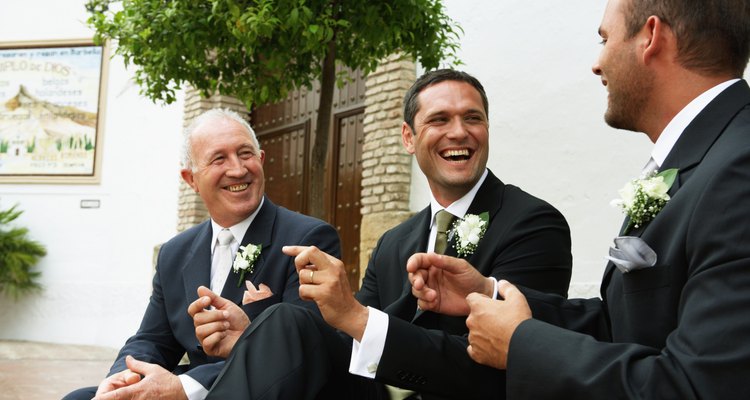 Maria Teijeiro/Digital Vision/Getty Images
As the father of the groom, you're spared some of traditional duties placed on other members of the wedding party. This gives you a bit more flexibility when it comes to your wedding wardrobe. A well-tailored suit is virtually always a safe bet, but if you're having trouble choosing an outfit, get in touch with the bride and groom and follow their style preferences.
Suit the Occasion
Although there are no hard-and-fast dress codes for fathers of the groom, a suit looks sharp, fits the occasion and expresses respect. Two- or three-piece suits both fit the bill, and you can't go wrong with wool. Single-breasted jackets with one or two buttons are standard-issue wedding attire. Unless the bride or groom dictates otherwise, crisp cuts and dark, subdued colors work well for urban weddings, while country affairs accommodate lighter shades, brown leather accessories and subtle patterns, such as gingham. For beach weddings, you can get away with a linen suit or a breezy, unlined blazer. A good fit is a priority -- visit a tailor before the big day to get everything nipped and tucked to perfection.
Complement Your Contemporaries
While you may not be front and center, the father of the groom is still part of the wedding party. Take cues from your contemporaries, particularly the groomsmen and the father of the bride. The bride or groom may prefer that you wear the same type of suit as the groomsmen; if not, choose matching or complementary colors and similar materials that identify you as part of the wedding party. If you don't go the full-on matching route, complement the wedding party with smart color choices, such as matching your tie to the color of the groomsmen's waistcoats or cravats. Complementary styles give the ceremony a sense of unity and lend a cohesive aesthetic to wedding photos.
Know When to Go Full Tux
It's never a bad idea to follow the father of the bride's lead in terms of formality; if he opts for a tuxedo, following suit makes for a classy gesture. When taking the tux route, seek an ensemble that matches or complements the father of the bride's suit. The same goes for groom or groomsmen; if they're in tuxes, you can don one, too. But whether you're wearing a tux or a beachy linen suit with no tie, never out-dress the groom.
Choose Timeless Touches
As a rule of thumb, black and charcoal are perennial suit colors for winter and evening ceremonies, while shades such as beige and brown work well for daytime and warm-weather weddings. Navy's an all-season color for any time of day. Accessorize with a pocket square that matches the wedding colors. Tie your tie in a tight Windsor knot for a formal wedding or opt for a four-in-hand at a more casual ceremony. Embrace cuff links and tie clips to finish your wedding day look.
References
Writer Bio
With a diverse professional background and a decade of experience as a freelance writer, Dan has contributed lifestyle content -- from fashion to travel to fitness and more -- to publishers including Chron, Fortune, Sony, GlobalPost, ModernMom, Moviefone, Salon.com, Techwalla and dozens of others.
Photo Credits
Maria Teijeiro/Digital Vision/Getty Images