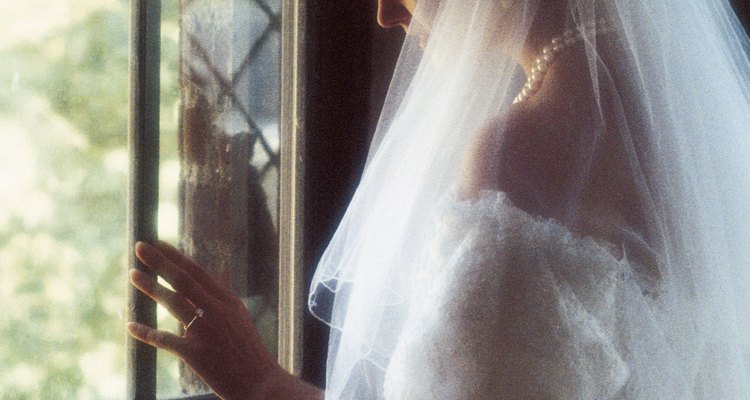 Comstock/Comstock/Getty Images
When planning a wedding, one of the biggest decisions to be made by the bride is what she will wear. A bride marrying in a Roman Catholic Church must select a gown that is appropriate in style and color, and one that maintains tradition for the ceremony. The groom, also, must follow guidelines for his attire.
The Bridal Gown
Brides marrying for the first time traditionally wear a white, floor-length gown. The color white symbolizes chastity and purity. While it is not a set rule of the Catholic Church, some priests require the bride — and her bridesmaids — to cover their shoulders during the ceremony as a sign of respect. Purchase removable sleeves for the dress, or wear a shawl while in church that can later be removed for a strapless look later on during the reception.
Widows and unwed mothers looking to marry in the church usually avoid wearing a white dress and go for ivory or off-white hues as a sign of respect for the 'pure' brides that approach the altar.
The Veil
Wearing a veil is a personal preference for the bride. Decades ago, this piece of fabric was worn over the bride's face as part of the superstition that is was bad luck for the groom to see the bride before the wedding. Today, the veil is seen as a sign of purity, though it is not an accessory required by the church.
The Groom's Attire
The bride groom traditionally wears a tuxedo or suit with a neck tie and dress shoes during the wedding ceremony, depending on how formal the reception is. Because the sacramental ceremony is a significant life event, it is important to dress the part — no jeans and sneakers.
Tips
Brides should avoid plunging necklines and gowns that reveal too much cleavage. Skin-tight gowns and dresses cut above the knee are frowned upon. These kinds of dresses can call for an uncomfortable moment when the couple is asked to kneel during prayer. Both the bride and groom should also make an effort to cover any tattoos and to remove any unconventional piercings — any piercings that are not in the ear — during the ceremony. Again, while it is not required, it is considered sign of respect for the pastor and for the sanctity of the marriage.
References
Writer Bio
Caitlin Donnelly Farrell is a freelance writer living in Denver, Colorado. Her work has appeared in "5280" magazine, "Syracuse Woman Magazine" and several online publications. Farrell graduated from the S.I. Newhouse School of Public Communications at Syracuse University with a bachelor's degree in magazine journalism.
Photo Credits
Comstock/Comstock/Getty Images