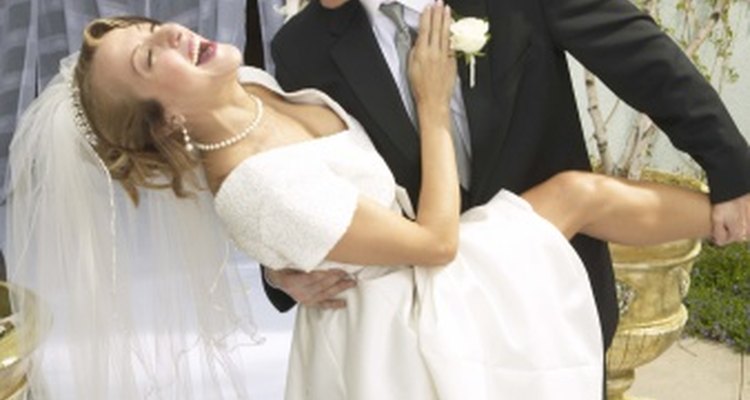 Jupiterimages/Comstock/Getty Images
Special occasions such as a wedding require that the couple wear matching attire to symbolize unity, style and elegance. An ivory-colored wedding dress is a simple alternative to a pure white dress, but the same rules regarding the color of the tuxedo don't apply for both dress colors. The colors of wedding attire depend on personal preference, but they do reflect the knowledge and sense of style of the couple.
White Tux
According to wedding experts, a white tux may look dirty against a white dress, but it is an acceptable color. However, it would look more appealing to stay away from an all-white look and match a white tux with an ivory-colored shirt. Another option is to wear an ivory-colored tie with a white tux, and with either a white or ivory shirt.
Ivory Tuxedo
An ivory-colored tuxedo looks appealing against an ivory dress, as long as the ivory colors match. It doesn't have to be an exact match, but should be as close as possible. Wear an ivory tux with an ivory vest, ivory tie and white shirt to break up the ivory tone a bit. The color of the shirt you choose should reflect personal preference -- a color that you feel comfortable wearing.
Black Tuxedo
Black tuxedos contrast nicely against a white dress. The key to wearing a black tuxedo is the color of the shirt and tie. At least one article should be ivory. Wearing a black tuxedo while the bride wears an ivory dress makes the color of the dress stand out instead of clashing against an ivory tuxedo. Choose either an ivory shirt or a white shirt with an ivory tie. According to Weddings Galore, the groom does not need to wear an ivory-colored shirt. However, the color of the dress and the color of the shirt should match, meaning the dress shouldn't look too antique or too yellow compared to the shirt.
Accessories
If you choose not to wear anything in the color of ivory, meaning the tuxedo, shirt or tie, you can always make up for it with accessories -- more specifically, the boutonniere. Make sure that at least the boutonniere is ivory colored. You can wear this accessory even with a classic black suit and white shirt combination. At least one item worn by the groom should be a matching ivory color, similar to the dress color of the bride.
References
Writer Bio
Aleksandra Ozimek has been writing professionally since 2007 for a fashion blog, various online media and the "Queens Courier," in addition to interning at "Cosmopolitan" magazine. She completed her Bachelor of Science in journalism and photography from St. John's University, where she is completing her master's degree.
Photo Credits
Jupiterimages/Comstock/Getty Images