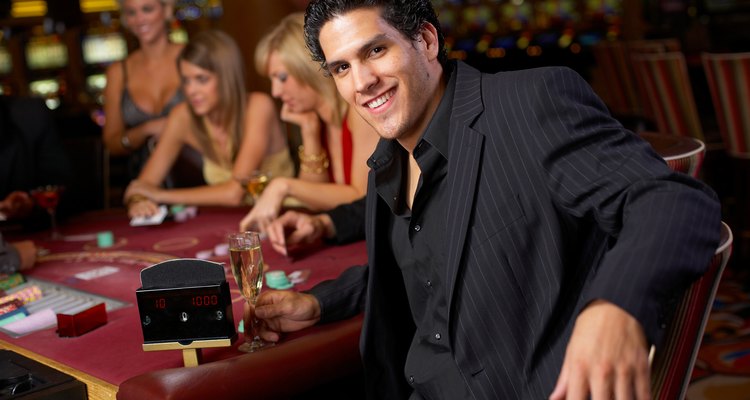 Jupiterimages/Photos.com/Getty Images
Staying below the radar with a neutral suit is the way of many, but if you really want to impress people, try wearing a pinstriped suit. Not reserved just for bankers and Wall Street tycoons, a pinstripe suit is an impressive wardrobe option that is versatile and professional. Be aware however, that unlike plain suits, when wearing your striped garment you have to be aware of the types of shirt and tie combinations you can pull off. Wear an overly tie with a pinstriped suit and you will quickly transform your look from fashionable to foolish.
Match Your Colors
Coordinate a solid colored tie that matches either the color of the pinstripes or the base color of the suit. With a white or cream shirt, a matching tie will add an element of formality that transforms your pinstripes into a power suit. If you are particularly bold, you may opt for wearing a coordinating bow tie with your suit instead of a traditional neck tie.
Opposites Attract
Wear a bold, contrasting solid tie to make yourself stand out even further in your pinstriped suit. A dark red, blue or green colored tie would be suitable. Pair a solid-colored tie with either a solid-colored pale shirt such as pale blue or cream, or you could opt for a striped or patterned shirt, as long as the stripes or patterns are mild enough to not compete with the suit.
Prints with Patterns
You will also be able to pull off a patterned tie with a pinstriped suit as long as the pattern is relatively basic and geometric. You could choose a pattern of dots or squares on practically any color of tie you choose to wear with the suit. Wear a solid shirt if you choose a patterned tie, so that your look does not appear too busy. Too many patterns will be distracting rather than formal or professional looking. Avoid ties with a striped pattern, as they will compete with the stripes on your suit.
References
Writer Bio
Based in Orlando, Fla., Michaela Davila has been writing poetry, short stories, resumes and advertising materials for years. She has recently been published in the Dollar Stretcher and Devozine. Davila has a bachelor's degree in business administration from Elon University and is a Board Certified Associate Behavior Analyst.
Photo Credits
Jupiterimages/Photos.com/Getty Images