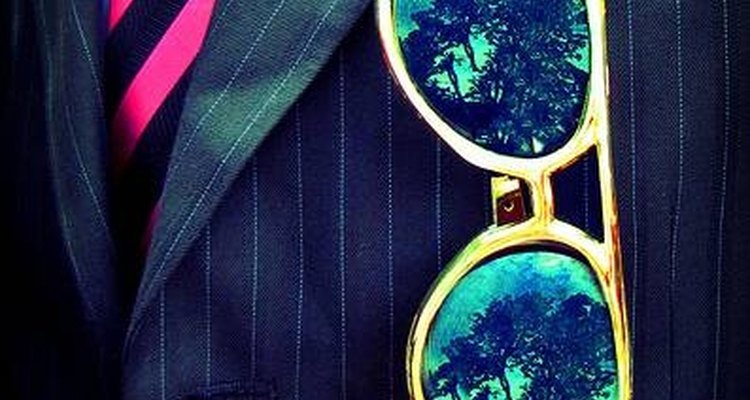 Black pinstripe suits can look neat and sophisticated, and they're an elegant option from everything from the boardroom to a formal event. But often, wearing the wrong accessories can ruin the whole look, making the wearer seem utterly unfashionable. Luckily, there are a few simple rules to follow that make sure you always look clean and polished when stepping out in your best black pinstripe suit.
Shoes
When wearing a black pinstripe suit, it is critical to have shoes that match. This means you should always be wearing black dress shoes. Don't wear scuffed shoes. Have them shined at your local shoe repair store before stepping out.
Socks
Wearing white socks with a black suit is a huge fashion faux-pas. Make sure you wear only black dress socks when donning your black pinstripe suit.
Tie
Wearing a solid tie is your best bet for wearing a pinstripe suit. Wearing a tie that has a competing pattern will ruin the look entirely. You can wear a tie of any color, but it's a good idea to coordinate it with your entire look. And yes, you can wear a black tie (as long as you're not also adding a black button down shirt). Subtle patterns that don't compete with the stripes are acceptable. If you are unsure, ask a style-savvy friend or family member, or get the advice of a sales associate at your favorite store.
Shirt
A white shirt with a pinstripe suit will always look polished. However, you can wear almost any color (except gray, as it offsets the black too much), but it is best if you stick to solids. As with the tie, avoid a button-down shirt with checks or patterns that will compete with the suit's stripes.
Cuff Links
Cuff links can add pizazz and polish to your look. Gold or silver are appropriate choices, as are jeweled cuff links. However, if you have other jewelry you plan to wear (such as a watch or ring), your cuff links should coordinate with it in tone. Mixing metals is difficult for most men or women to pull off, and it's safer not to.
References
Writer Bio
Writing since 2008, Fiona Miller has taught English in Eastern Europe and also teaches kids in New York schools about the Holocaust. Her work can be found on Overstock.com, ConnectED and various other Web sites. Miller holds a B.A. in French from Chapman University and an M.A. in educational theater from New York University.