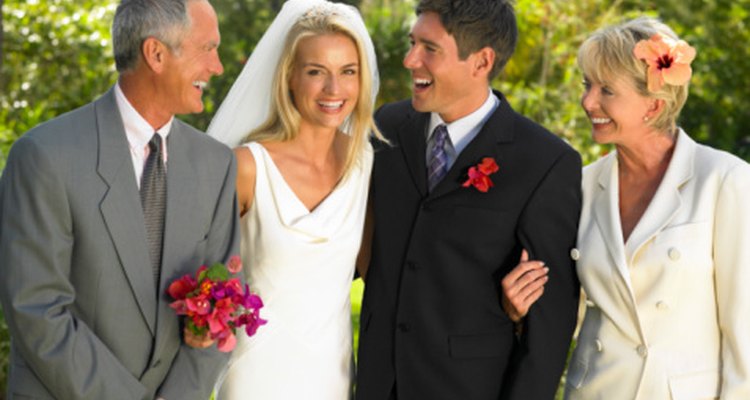 BananaStock/BananaStock/Getty Images
Since many parents help to cover the costs of the wedding ceremony, the etiquette surrounding the bridal shower can be confusing. Even if parents are footing the bill of the ceremony, gifts are expected of them for both the wedding and the bridal shower. Your gift doesn't have to be expensive or extravagant, but if you have been invited to the bridal shower, it's important to show your appreciation with a gift.
What to Spend
Since it's only the bridal shower, you needn't go overboard. If you're contributing financially to the wedding, don't feel pressured to spend a fortune. For most bridal showers, gifts of $25 to $75 are perfectly appropriate. However, since this is your daughter or future daughter-in-law, you may feel compelled to spend a little extra to show you care. Let your relationship to the bride and what you're comfortable spending dictate the type of gift you purchase.
Who Pays?
Traditionally, the responsibility of planning the bridal shower is left to the maid of honor. As a result, parents are unlikely to have to contribute money to the bridal party fund. Sometimes, the mother of the bride may be asked to pitch in. The groom's parents can use this as an opportunity to reach out to the mother of the bride. Although the wedding is still months away, both sets of parents should get to know each other better before the big day.
Joint Gifts
If the couple is young, it's unlikely that their friends will be able to purchase them the big-ticket items a newly married couple will need. Reach out to the other set of parents to see if you can all coordinate one large, important gift for the new couple.
This will give the new in-laws a chance to connect before the wedding, an important step in uniting the two families. Pool your resources to equip them with a new set of bedroom furniture or a gas grill and patio set.
Sentimental Gifts
Parents often help pay for large portions of their children's weddings. As a result, lavish wedding gifts can seem like overkill. Instead of spending money on a gift, give one that's straight from the heart. Pass on a family heirloom. Donate lace from your wedding gown to be used in a veil. Pass on jewelry from grandparents.
Especially for the groom's parents, an heirloom gift to the bride will help her feel like part of the family. At a time when the couple is receiving so many practical gifts, a bit of sentimentality will stick out from the crowd.
References
Writer Bio
Irena Eaves began writing professionally in 2005. She has been published on several websites including RedPlum, CollegeDegreeReport.com and AutoInsuranceTips.com. Eaves holds a Bachelor of Science in journalism from Boston University.
Photo Credits
BananaStock/BananaStock/Getty Images