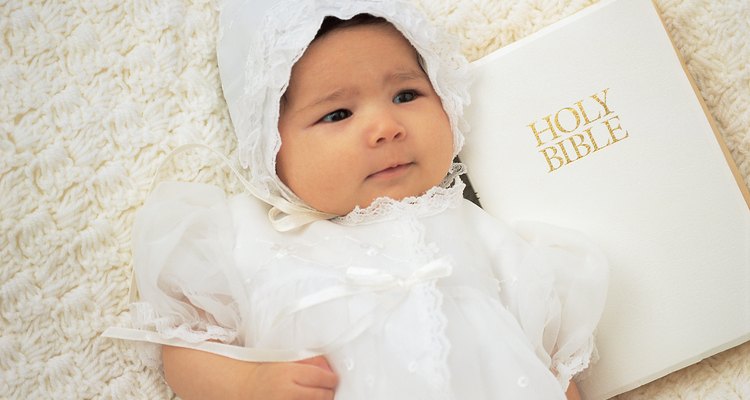 Comstock/Comstock/Getty Images
Although parents don't always expect baptism gifts, purchasing one is a way of showing your appreciation for being invited to the baptism ceremony. As with weddings, gifts are usually collected at the ceremony but opened by the parents at a later time. Some parents may even choose to have a gift registry through which you can purchase pre-selected gifts. Every family approaches baptism differently, so it's best to talk with the family and check the invitation before purchasing a gift.
Gifts from Godparents
At almost every baptism ceremony, traditional etiquette states that godparents have an obligation to provide a gift. Depending on the branch of Christianity, these gifts differ. In the Greek Orthodox Church, godparents traditionally purchase the outfit and cross necklace that the child wears. In most other churches, godparents often purchase only the necklace for the child. Most families do not expect a specific gift from godparents, but even in these cases, you should still attempt to get a meaningful gift such as jewelry, a keepsake box or silverware engraved with the child's name.
Religious Gifts
Since baptism is a Christian ceremony, many gifts are often tied to that religion. A hardbound copy of the Bible is a traditional gift. These bibles are often leather-bound and engraved with the name of the baptized child. Similarly, jewelry such as bracelets or necklaces are also acceptable gifts. These pieces of jewelry can contain Christian iconography such as images of Jesus or the Virgin Mary. Objects with scripture or religious text are also suitable.
Commemorative Gifts
A baptism ceremony is an important milestone in the child's life, and many guests choose to purchase gifts to commemorate the day itself or the child's birth. Personalized picture frames are a popular gift, especially if you have a picture you were hoping to give to the family. If you don't have any good pictures, mugs, towels and plaques can all be engraved with the name of the child and the date of the ceremony.
Practical Gifts
Many families choose to baptize their children for traditional rather than religious reasons, and some of these families may appreciate more practical gifts that their children can use. In this case, clothing is always a safe choice. You can also purchase toys, blankets, or baby goods such as hampers. Money is a traditional baptism gift, but some families may take offense, so it's a good idea to check with the family beforehand.
References
Writer Bio
James Stuart began his professional writing career in 2010. He traveled through Asia, Europe, and North America, and has recently returned from Japan, where he worked as a freelance editor for several English language publications. He looks forward to using his travel experience in his writing. Stuart holds a Bachelor of Arts in English and philosophy from the University of Toronto.
Photo Credits
Comstock/Comstock/Getty Images