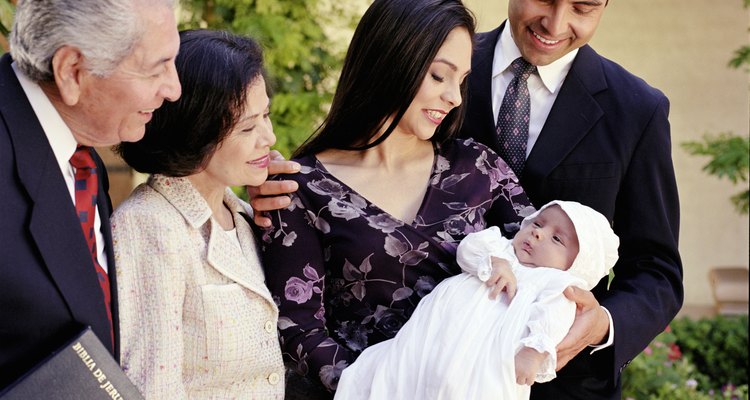 Digital Vision/Digital Vision/Getty Images
Some of the happiest times in parents' lives are the celebrations of their children. Among these is the ceremony of baptism. This is especially true for Hispanics, the majority of whom are Christian. A variety of traditional gifts are welcomed at Hispanic baptisms.
The Tradition of Silver
The most traditional baptism gift one can give is silver. There are many items from which to choose, including the shell used for pouring the water in the ceremony, a rattle, a pacifier, or even a charm or teaspoon commemorating the occasion.
The Tradition of Clothing
Another traditional gift is an article of clothing to be used in the ceremony. The most common of these would be the universally recognized christening gown or christening blanket. Hispanic ceremonies may also use more gender specific outfits, including the "faldón," or long white skirt, for girls and the "trajecito," or mini-suit, for boys.
The Tradition of Utility
Moving on from ceremonial items, babies always need clothes. A very welcome gift is an item that the baby can use every day. One of the best options in this category is a blanket for the crib or stroller, embroidered with a commemoration of the occasion. However, pajamas and other outfits are always appreciated and definitely appropriate.
The Tradition of Practicality
Choosing to give something that the parents could really use is also an appropriate gift. Good options include an accessory for the baby's crib or stroller, a bottle-warmer or a remote monitoring device for checking in on the crib. It is also appropriate to go in with other guests on a larger gift, such as a changing bed or even the stroller or crib itself. Toys and developmental accessories are also welcomed presents.
The Tradition of Money
In years past, godparents would often open a savings account for the baby with a starting sum of money that would grow with the child. Whatever you decide to give, remember that what is most important in Hispanic culture is the sharing of this important occasion. In this sense, the best gift will always be your presence.
References
Writer Bio
Based in Medellín, Colombia, Maryanne Schiffman has a B.A. in economic development from UC Berkeley and an M.A. in Latin American studies from the University of Texas. Writing for more than 20 years, she has contributed to academic journals and online publications, including the Colombian NTN24 news website.
Photo Credits
Digital Vision/Digital Vision/Getty Images