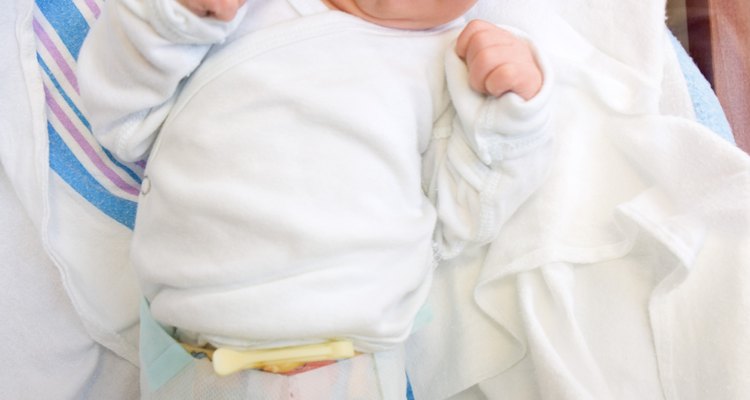 Jupiterimages/Comstock/Getty Images
A Jewish naming ceremony coincides with the bris for boys, the male circumcision rite, which happens on the eighth day after birth. For girls, a naming ceremony can be held any time, though many parents choose to do it on the eighth day. A naming ceremony essentially introduces the baby to family and friends and is cause for a celebration. Unless you've already given the parents a gift, it is customary to bring one to the ceremony, though you can bring another if you'd like.
Jewish-Themed Gifts
Since a naming ceremony is a Jewish custom, many people like to give religiously themed gifts. A large Star of David that hangs on a nursery wall is a fun idea that parents won't have to find a lot of room for. A child-sized Kiddush cup, a silver goblet used to honor the Mitzvah, is another idea. Icons from the Old Testament are other options, such as a Bible or a Noah's Ark-themed gift. Many decorations, toys and books feature themes from Noah's Ark and are appropriate for a naming ceremony.
Baby Gear
Much like a baby shower, bringing baby gear as a gift at a naming ceremony is appropriate. This could be anything that the parents have expressed a need for, including diapers, wipes, bibs, formula, bottles or blankets. You can also give clothing or toys geared toward newborns. If you're unsure of what the family might need, talk to the baby's grandparents, aunts or uncles. Or, simply choose something that the new parents will need plenty of, such as diapers or socks.
Personalized Gifts
If you know ahead of time what the baby's name is, it is fun to bring a gift with the name spelled out on it. There are many options for personalized gifts, though they might be hard to find if the name is unusual. If this is the case, you may have to special order a personalized naming ceremony gift. Blankets, onesies, wall hangings, blocks, diaper bags, monogrammed sheets or baby towels and hats are items that can easily have a name added.
Money
Often, new parents are strapped for cash, between hospital bills, the cost of baby supplies and time taken off from work. If you know the parents don't need any more baby gear, giving a gift of money is a thoughtful way to acknowledge a naming ceremony. This allows parents to use the cash as they see fit, whether they load up on diapers or put it into a college fund for the baby. The amount you give is up to you and no set amount is deemed necessary. Place the money in a card or handwritten note to make it a bit more personal.
References
Writer Bio
Eliza Martinez has written for print and online publications. She covers a variety of topics, including parenting, nutrition, mental health, gardening, food and crafts. Martinez holds a master's degree in psychology.
Photo Credits
Jupiterimages/Comstock/Getty Images