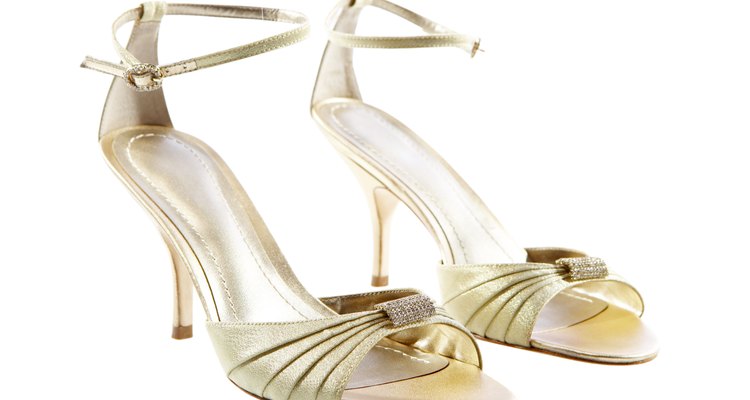 Thomas Northcut/Photodisc/Getty Images
The heat is on the rise and you've retired your go-to knee-high boots -- and now finding summertime fave footwear is a prime concern. Whether you're putting together a blinged-out beach outfit for a hot summer fete or you aren't sure what to wear to the birthday bash of your friend's toddler, stressing over footwear etiquette can cast a pall over the festivities. The key to not making a fashion faux pas at those special events or casual activities is understanding the differences between a flip-flop and a sandal.
Materials and Composition
One of the core differences between flip-flops and sandals is the material composition of each type of footwear. While flip-flops are typically made from rubber, foam or plastic materials -- sometimes accented with fabric or other embellishments -- sandals are often made from less flimsy materials. Sandals certainly bare more skin than a full-coverage heel or boot, but they typically come in sturdier materials than do flip-flops, such as leather or even cork. Both types of shoes may incorporate cloth or fabrics as part of the thongs or straps.
Shape and Look
If your summer shoes have a thong that sits between your toes, a flat sole and some sort of thin straps that hold the shoes onto your feet, they are flip-flops. Even if the thong is leather and the shoes sparkle with embellishments or faux flowers, they're still flip-flops. Sandals may have a heeled or wedged sole and straps that go around the ankles or over the top of your foot near your toes. Keep in mind, however, that both types of shoes can have a platform sole which, while technically a heel, is typically a more substantially flat sole and not in the same fashion arena as a kitten pump or a stiletto, both of which elongate the look of the leg. Sandals can also feature structured ankle straps or fuller-coverage straps that hold in the toes and heels -- and sandals are better for your feet than a flimsy, thonged flip-flop which throws off your natural stride and sometimes causes blisters between the first two toes due to friction from the thong.
Casual vs. Dressy
While you might have the cutest flip-flops on the block -- complete with sequins and sparkles -- traditionally they aren't in the same category of dress as are sandals. If you're taking the kids to the pool, visiting an amusement park or hitting the beach with your friends -- flip-flops are a completely appropriate choice for such a casual activity. On the other hand, if you're dining at a high-end restaurant or attending a wedding or something similarly dressy and elegant, sandals are the better choice.
Professionalism vs. Slap-Dash
Would you wear your flip-flops to the office? Probably not, unless you work at a beach store or you've got a summer gig as a lifeguard. While some professional environments also frown on sandals, this sturdier -- and dressier -- type of summer footwear is occasional acceptable in the workplace. Whereas flip-flops never look professional, a pair of fashion-forward wedge sandals or a more formal heeled, leather pair may just make the mark when it comes to your warm-weather office attire.
References
Writer Bio
Based in Pittsburgh, Erica Loop has been writing education, child development and parenting articles since 2009. Her articles have appeared in "Pittsburgh Parent Magazine" and the website PBS Parents. She has a Master of Science in applied developmental psychology from the University of Pittsburgh's School of Education.
Photo Credits
Thomas Northcut/Photodisc/Getty Images