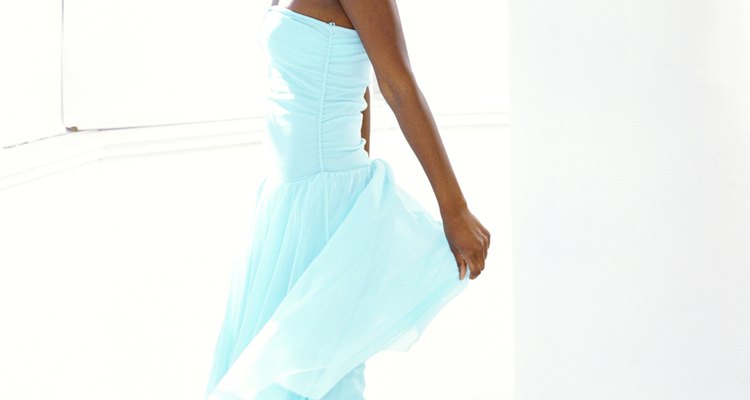 Digital Vision/Photodisc/Getty Images
As with any accessory, partnering your outfit with the appropriate shoe is essential. Wearing the wrong shoes can make or break an entire look. When deciding which shoes to wear with a particular outfit, consider the color and style of the garment. If a blue, sparkly dress has caught your eye, you have several options. Depending on the length and level of detail in your dress, you can pair it with several variations in shoes and accessories.
Dress the Part
Formal wear is perhaps the strictest of any style when it comes to following specific guidelines for what is appropriate and not. If you have chosen a formal blue, sparkly dress that has ornate details such as sequins, bows and rhinestones, you will want to pair it with a formal shoe. Formal gowns with sparkle pair well with shoes equally as flashy, so satin and other delicate fabrics are a better choice than plain leather designs. Formal strappy sandals, peep-toe heels and even mules are great options for adding the finishing touch to your formal gown.
Everyday Blue
If your blue sparkly dress is semiformal or on the more casual side, you can accessorize your outfit to develop an everyday look. You have a few options, depending on the occasion.
For a girls' night out, you can pair a semiformal, knee-length blue dress with silver stilettos for a snazzy, out-on-the-town look. If you are heading to your local bar, you may want to keep your outfit more low-key. In this case, you could pair the same blue dress with cowboy boots for a bit of fun and flare.
If you are looking to drum up an everyday outfit for work, you could pair your dress with a denim jacket and ballet flats to create a polished look for the office.
In the Shade
When accessorizing your blue sparkly dress, the specific shade of the dress is a factor as well. For example, you might be able to pair a black shoe with a royal-blue dress. However, if the dress is navy blue, you would want to avoid black shoes. Black shoes with navy can appear mismatched, as the colors are very similar in hue and shade. When choosing the right shade of shoes, it is best to pair lighter blue dresses with darker shoes and vice versa.
Dress Me Up
When you have found the perfect blue dress, consider the importance of shoe selection. The shoes you choose can make a formal dress playful or a casual dress flashy enough for a night out. You do not necessarily need to wear shoes that are the same shade as your dress; you can pair the dress with contrasting colors, as many of them will complement all variations of blue. When in doubt, bring your dress with you when shoe shopping, and don't be afraid to mix and match your look.
References
Writer Bio
Carrie Teresa Maison has more than four years of professional writing experience in various genres. Her poetry has been featured in several online journals and publications. Maison has a Master of Fine Arts in creative writing and is an adjunct professor of English.
Photo Credits
Digital Vision/Photodisc/Getty Images