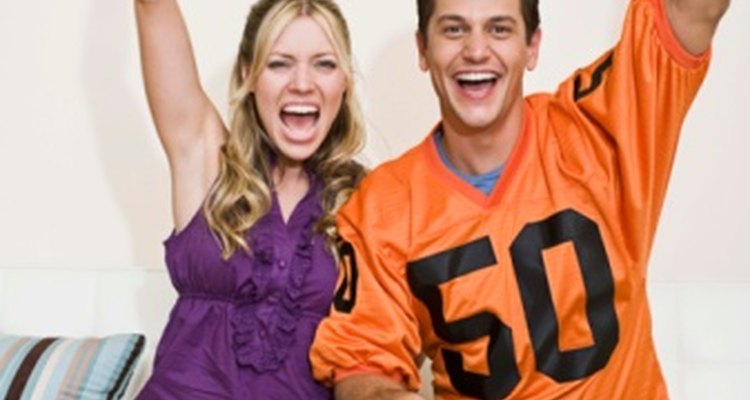 Jupiterimages/Brand X Pictures/Getty Images
The number of counterfeit sports jerseys sold has skyrocketed worldwide in the past few years. Black market companies, generally located throughout Asia, have been able to closely duplicate authentic jerseys for every major sports team in the world, while undercutting the price of authentic articles. Adidas supplies jerseys to professional football, soccer, basketball and other sports teams. Adidas quality and anticounterfeit trademarks are difficult to perfectly replicate, and an educated consumer is able to spot differences between real and fake Adidas jerseys.
Inspect the jersey material. Authentic material feels durable and appropriate for the sport for which it's meant to be worn. Counterfeit items use cheap polyester on the majority, or entirety, of the jersey. The material may also be a polyester mesh, common in football and basketball jerseys, but one that lacks durability and quality.
Inspect the jersey's stitching. Authentic Adidas jerseys have meticulous stitch work that is strong, with even spacing between stitches. Logos and team emblems will not have any frayed thread. Badges are sewn down, not heat pressed, and the stitching is visible on the inside of the jersey.
Inspect the serial tag. All Adidas jerseys have a serial code on a tag on the inside of the garment. The tag and serial code is unique to each individual jersey.
Inspect name and numbering material. Football and basketball jerseys use durable patches that are sewn onto the jersey. A cotton paperlike backing is used to apply the patches, but is removed by Adidas prior to shipping. Many counterfeit jerseys will have the backing still attached to the inside of the jersey. Soccer jerseys, specifically English Premier League jerseys, use a material called Lextra. This material has a soft felt surface and is heat pressed onto the jersey. Lextra is difficult to counterfeit, so many fake jerseys have flimsy plastic numbers pressed on instead.
Learn the prices of authentic jerseys. Do not purchase from online stores located in Asia that sell jerseys at "cheap, wholesale prices." Most or all of these sites sell fake jerseys. Authentic jerseys will cost more than $30, and sometimes much more, depending on the sport.
References
Writer Bio
Located in Wisconsin, Sean Hemmer has been writing professionally since 2010. Hemmer has contributed several articles to Gamewinners.com and has written for a blog titled "The Tequila Sunrise." He started attending Blackhawk Technical College during the year of 2008 in pursuit of an Associate of Applied Science in information technology/network administration.
Photo Credits
Jupiterimages/Brand X Pictures/Getty Images